2014 Shell Houston Open - Vegas Betting Odds, Free Picks + Tee Times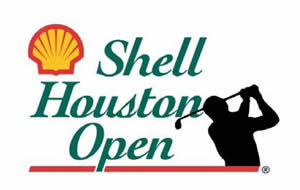 The 2014 Shell Houston Open will take place the week before the 2014 Masters. With it being the week before the Masters, it's difficult to say how the field will shape up. Some players enjoy playing in competition the week prior to a Major, while others prefer to take the week off to practice and mentally prepare for the upcoming challenge.
The Shell Houston Open understands their position in the schedule, and does its best to simulate playing conditions at Augusta. Certainly it won't be exact, but with the green speeds at Redstone Golf Club they are able to give players a similar test. It's not easy taking place seven days before the opening round of a Major, but formulating playing conditions geared towards specific shots is enticing.
As has been the theme this year, the Golf Channel + NBC are combining forces to bring live coverage of the 2014 Shell Houston Open. Thursday + Friday rounds will be exclusively covered by the Golf Channel with action starting at 3pm ET and ending at 6pm ET. Both Golf Channel + NBC will have coverage of the weekend rounds however they will NOT overlap as they have while covering the last few tournaments. Saturday + Sunday action gets started on the Golf Channel at 1pm ET until NBC takes over at 3pm ET with live coverage until the end of play.
Jump To: Betting Odds | Free Picks | Tee Times & 3-Ball Odds

Golf Club of Houston - Humble, Texas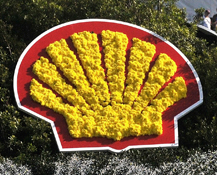 The Golf Club of Houston, formerly Redstone Golf Club, is a situated in Humble, Texas, a town that contrasts starkly against the sprawling metropolis of Houston. It has hosted the Shell Houston Open since opening in 2003. The 72-par, 7,422 yard course was designed by Rees Jones and David Toms. The architects incorporated natural, wild aspects into aesthetic beauty and challenging holes.
This well-manicured, highly-engineered course is both challenging and rewarding at the same time. While balls drop in bunkers like rain on a pond, golfers are able to experience a tournament style course without massive crowds or distractions. The course carves through wetlands and natural lakes, though the par-4 at the end is the most memorable hole on the Tournament Course. The 18th requires a powerful tee shot over a lake that falls short of the bunker on the far side of the green.
D.A. Points shot 16-under for first place in the 2013 Shell Houston Open. Hunter Mahan won in 2012 and Phil Mickelson, with a 20-under, came out over Scott Verplank in 2011. Though Redstone has only hosted 10 PGA Tour events, golf enthusiasts should enjoy years of competitive, low-scoring play in upcoming tournaments at The Golf Club of Houston.

Vegas Odds For 2014 Shell houston Open
Though this isn't the week of the Masters, it's hard to tell with the talent in the field this week. Because of that, golf betting sites like Bovada wasted no time in getting their 2014 Shell Houston Open betting lines posted and the odds to win were among the first to go live.
Look just below and you will see the odds / payout for 140 golfers that are scheduled to play this week. Keep in mind, these are the Monday morning lines and the favorites could definitely change even if only in the payout. If anything drastic happens, we'll update our list to reflect those changes. This page also provides other options including the live odds to win (when available) but the drawback is that those PGA wager lines are sorted in alphabetical order.
Shell Houston Open Pre-Tournament Lines

- odds found at Bovada Sportsbook on 3/31/2014

In-Progress Odds For 2014 Shell Houston Open - display between rounds if available
Free Picks For 2014 Shell Houston Open
As we noted earlier, this is a very deep field and that's going to take some time to breakdown. Anyone from Rory at 9/1 down to guys with 250/1 odds could be in the mix. Want proof? If you would have picked Steven Bowditch to win last week at the Valero Texas Open, you'd have won 200 to 1 on your money! If you said you picked him before the start of the tournament, you're most likely lying unless your last name is Bowditch!
Please check back tomorrow as we'll take the time to break it all down + make our picks tonight!
The tee times + pairings for the 2014 Shell Houston Open are released about 48 hours before the opening round. What comes along with those pairings are 3-ball odds that bettors can get in on each round. We will have all of the 3-ball odds for each group, plus their tee time that goes along with it so that you can know who is playing and when they go out.
2013 - Shell Houston Open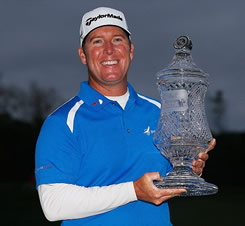 D.A. Points had missed seven cuts in nine starts on the 2013 PGA Tour heading into the start at the Shell Houston Open. And after failing to break 70 in his four previous events, Points lit up Redstone in the first round firing out with a 64. In a good position for the rest of the way, Points closed the 2013 Shell Houston Open with a 66 in Sunday's final round to win by one shot over Henrik Stenson and Billy Horschel.
The win qualified Points to play in the 2013 Masters the following week. It was his second-career PGA Tour victory - the first came back at the 2011 Pebble Beach Pro-Am when he was paired with gallery favorite and actor Bill Murray.
2013 Shell Houston Open - Leaderboard
D.A. Points -16 (272)
Henrik Stenson -15 (273)
Billy Horschel -15 (273)
Dustin Johnson -14 (274)
Ben Crane -14 (274)