2014 PLAYERS Championship - Vegas Odds, Free Picks, + Tee Times

The 2014 PLAYERS Championship still won't be considered a Major, but it will still be considered the 'next best thing'. And for a golf course that players know very well, TPC Sawgrass still puts up a fight year-in and year-out. That is exactly what is to be expected during the four days in Ponte Vedra Beach, Florida. The first round will commence on Thursday, May 8th, with the final round getting underway on Sunday, May 11th.
Hands down TPC Sawgrass has the best finishing three holes in all of golf, and for the 2014 PLAYERS Championship that will be illustrated once more. Players in contention on Sunday walking up the 16th fairway will get plenty of time to stare down No.17 over the water, and the very difficult 18th.
There will be plenty of coverage throughout the week at Golf Channel. 'Live From THE PLAYERS Championship' will air nightly leading up to Thursday's opening round and beyond. As far as the coverage of meaningful golf shots being struck, Golf Channel will begin showing live action on Thursday + Friday at 1pm ET until 7pm ET or until play has concluded for the day. Then for the weekend rounds Golf Channel will team with NBC to bring full coverage - Golf Channel will begin covering live golf at 12:30pm ET and end their coverage at 6pm ET on Saturday + Sunday - NBC will have live golf beginning at 2pm ET until the end of play for both Saturday + Sunday's rounds.
Live Network Television Coverage:
Thursday

- Golf Channel 1pm ET

Friday

- Golf Channel 1pm ET

Saturday

- Golf Channel 12:30pm ET / NBC 2pm ET

Sunday

- Golf Channel 12:30pm ET / NBC 2pm ET
Jump To: Betting Odds | Free Picks | Tee Times & 3-Ball Odds

TPC Sawgrass, Ponte Vedra Beach, Florida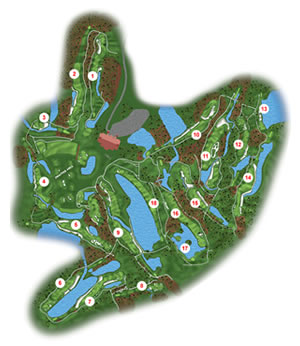 Open for play in 1980, this Pete and Alice Dye course is one of the most recognized courses on the PGA Tour. TPC Sawgrass hosts the annual Players Championship and has two different courses; the Stadium and Valley. The Stadium course is known as one of the most challenging courses in the world. It was designed to host tournaments like THE PLAYERS Championship because it has raised areas for better viewing.
The 17th hole is a par-3, 137-yard sinker that golfers love and hate. The Island Green requires a well-placed iron shot and a soft two-putt when the hole is on the edge of the green. The course itself covers more than 415 acres of Florida swampland. Narrow fairways, marshy bunkers, and obtrusive palm trees make for an exciting 18 at the Stadium Course.
THE PLAYERS Championship was recently won by Tiger Woods for the second time. Earning a purse of $1,710,000, the 2013 victory was his second win at TPC Sawgrass.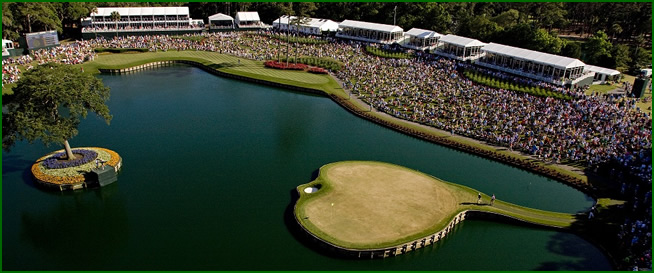 Vegas Odds For 2014 PLAYERS Championship
Look just below to see the odds for the entire field this week. In fact, these betting lines for the 2014 PLAYERS Championship are hot off the presses at Bovada and will be available for wagering from now up until the start of the event on Thursday morning. But it won't stop there... no, no! Revised odds to win the tournament will be available between every round (will show on this page below the pre-tourney odds when available for wagering) plus several other ways to wager including PLAYERS Championship props, real + mythical matchups, top-5 & top-10 finish odds, and more!
Who's Favored To Win The 2014 PLAYERS Championship?
Even if Tiger Woods had been playing this week there would be no guarantee that he would have been favored with players like Adam Scott and Rory McIlroy in the field. In fact, the two latter players are tied atop the odds this week at 14 to 1 which returns $14 for every $1 wagered should one of them win + you pick the correct one to wager on.
Following the top-2 is Matt Kuchar who opens with 18 to 1 (+1800) odds however Sergio Garcia (20/1, +2000) and Justin Rose (22/1, +2200) are not far behind the American. Rounding out the top-10 are Henrik Stenson, Luke Donald, Phil Mickelson who are all at 25/1 odds (+2500) as well as 2014 Masters winner Bubba Watson and Jordan Spieth who both sit with 28 to 1 odds prior to the start of the event.
The PLAYERS Championship Pre-Tournament Lines

- odds found at Bovada Sportsbook on 5/5/2014

In-Progress Odds For 2014 PLAYERS Championship - display between rounds if available
Free Picks For 2014 PLAYERS Championship
PLAYERS Championship Winner - The PLAYERS Championship is a tough one to pick because of the deep field. Not to mention there is no blueprint for a winner. There are all kinds of players that can win the tournament. With Jim Furyk having a good week at the Wells Fargo Championship, and residing in Jacksonville, he is our pick to get it done. A payout of 33/1 is installed for Furyk this week.
PLAYERS Championship Darkhorse - Patrick Reed has fizzled of late which has seen his odds to win this tournament drop down to 66/1 (+6600). At this profit margin a bet on Reed would certainly be worth the risk, but could he win? Check back later today as we'll break down why Reed could be the guy to walk away with the hardware this weekend.
Again, we must ask you to wait and to check back later for this important information. Tee times and pairings are never released before the week of the tournament, usually just 36 hours in advance. We'll have all of that information posted here as soon as it becomes available to us.
2013 PLAYERS Championship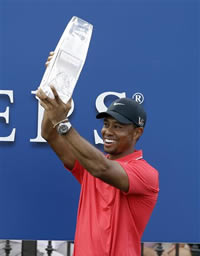 Tiger Woods had won a PLAYERS Championship once in his career before, but it was the poor performances on the whole at TPC Sawgrass that grabbed the majority of the attention. Woods had not been in contention on a Sunday at the PLAYERS in quite some time heading into last year. That all changed though, as Woods won for the first time in 12 years at THE PLAYERS Championship.
The margin of victory will say two, but it could have been much closer or perhaps even a playoff with Sergio Garcia. That was until Garcia put it in the water twice on the 17th hole to fall out of the chase. As bad timing would have it, Sergio was tied with Tiger atop the leaderboard when those two shots went astray. The win was Tiger Woods' fourth of the season and the 2013 PLAYERS Championship would go on to be his biggest victory of the year.
2013 PLAYERS Championship - Leaderboard
Tiger Woods -13 (275)
Kevin Streelman -11 (277)
Jeff Maggert -11 (277)
David Lingmerth -11 (277)
Martin Laird -10 (278)