2014 Wyndham Championship - Vegas Odds, Free Picks + Tee Times

The Wyndham Championship will be particularly significant as part of the 2013-14 PGA Tour season as this event happens to be the final regular season tournament before the start of the 2014 FedEx Cup Playoffs. That means it's the last chance for players who are outside of the top-125 in the FedEx Cup standings to try to make it under the cutline, but this tournament will also a chance for those already locked into the Chase for the FedEx Cup to move up the board even higher. All of the action will begin to unfold on Thursday, August 14th and will conclude on Sunday, August 17th barring any extended weather delays.
If you're looking to watch the drama play out then be sure to tune into the Golf Channel and CBS as both will team up to bring at-home viewers the call. Look just below to see the entire live viewing schedule but don't wait until it starts on TV because it will already be too late!
Live Network Television Coverage:
Thursday:

3:00pm - 6:00pm ET

Friday:

3:00pm - 6:00pm ET

Saturday:

1:00pm - 2:30pm ET

3:00pm - 6:00pm ET

Sunday:

1:00pm - 2:30pm ET

3:00pm - 6:00pm ET
Jump To: Betting Odds | Free Picks | Tee Times & 3-Ball Odds

Sedgefield CC, Greensboro, North Carolina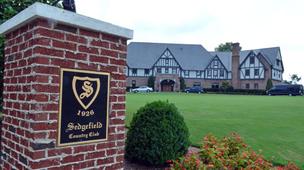 Since 2007, the Sedgefield Country Club has hosted the Wyndham Championship, an official PGA event—but the golf course's history stretches back much further than that. In fact, the course, located in Greensboro, North Carolina, was established in 1926. Designed by Donald Ross, the great golf course architect, it is currently the only Ross-designed course used to host a PGA event.
History aside, what really sets the club apart is the gameplay itself. Ross designed the course to be intricate and precise. Those who play at Sedgefield today often remark that it resembles a work of art, its rolling fairways and lush greens proving as enticing to novices as they are challenging to veterans.
The club offers 36 holes total—the original Ross course and a newer, Pete Dye-designed course—both of which have a total course par value of 70.

Vegas Odds For 2014 Wyndham championship
With many of the top pros taking this week off following the year's last Major Championship there are some new names atop the list of favorites to bring home victory on the PGA Tour. Bovada published their first odds to win the 2014 Wyndham Championship on Monday morning and it's Brandt Snedeker who is favored over the likes of Hideki Matsuyama, Webb Simpson, Patrick Reed, Bill Haas, Ernie Els and several other great players... the entire list can be seen directly below this section.
2014 Wyndham Championship Pre-Tournament Lines

- found at Bovada on 8/11/2014

Alternate + In-Progress Odds For Wyndham Championship - display before + between rounds
Look just above to see updated betting lines for this event as well as odds for top-5 + top-10 finishes and much more like golf prop wagers. Be sure to check all the available options because you never know where you could find hidden value or an easy win!
Free Picks For 2014 Wyndham Championship
Pick info for the Wyndham Championship at Sedgefield Country Club is unavailable until the PGA Championship is finished the weekend before. That week, visit PGABettingOdds.com again for our winner pick and our pro value pick (a dark horse player that has been under the radar on the previous tournaments) for a chance at a big payout.
As we do every week, we have the 3-ball betting lines set to display just as soon as they become available at Bovada, the only place to make this kind of wager. In doing so this means the tee times + groupings will all be displayed as all 2+3 ball wager lines come off the board as soon as that particular group hits the first tee. Look for updated tee times and pairings between rounds when new odds are released + can be wagered online.
2013 Wyndham Championship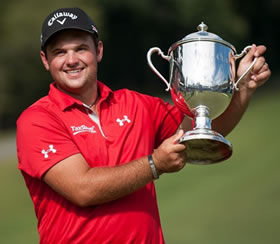 The 2013 Wyndham Championship certainly produced some drama with one of the game's rising stars going against a virtual unknown. It came down to a playoff between Jordan Spieth and Patrick Reed. Spieth was already turning some heads on the season, as the 20-year-old won as a teenager earlier in the year. But this was Reed's time to shine, making a birdie on the second hole in a sudden-death playoff.
The victory was the first of Reed's career, and moved him up to No.22 in the FedEx Cup points standings at the time. Reed would go on to make it through to the BMW Championship within the top-70 FedEx Cup points, but did not qualify to play the Tour Championship.
2013 Wyndham Championship - Leaderboard
Patrick Reed -14 (266)*
Jordan Spieth -14 (266)
Brian Harman -12 (268)
John Huh -12 (268)
Matt Every -11 (269)