2014 Quicken Loans National - Vegas Odds, Free Picks, + Tee Times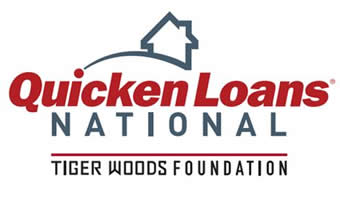 One of the top stops on the PGA Tour, the 2014 Quicken Loans National will bring many of the best players in the world to Congressional Country Club, the site of the 2011 U.S. Open located just outside of Washington, D.C. The tournament boasting
Congressional will have more than enough firepower to shell out to the top players in the world. There are scoring opportunities, but at 7,600 yards and a Par-71 this layout is just plain long. The edge for the 2014 Quicken Loans National would have to lean to the direction of a player that can bomb it out there. In today's PGA Tour though that is no longer a handful of players, as the majority of the field hits it more than 290 yards.
CBS and Golf Channel will bring the shots as they happen to you throughout the week in Bethesda, Maryland. Golf Channel will have hosting duties on Thursday and Friday while CBS will take the reins for the final two days of competition.
Live Network Television Coverage:
Thursday:

3pm - 6pm ET

Friday:

3pm - 6pm ET

Saturday:

1pm - 2:30pm ET

3pm - 6pm ET

Sunday:

1pm - 2:30pm ET

3pm - 6pm ET
Jump To: Betting Odds | Free Picks | Tee Times & 3-Ball Odds

Congressional CC, Bethesda, Maryland
Located in scenic Bethesda, Maryland, Congressional Country Club carries a golf aesthetic that heralds back to its original opening in the 1920s. The country club is now home to the Quicken Loans National tournament, most recently won by golf pro Bill Haas with a closing score of 66.
Congressional's Blue Course, designed by golf architect Devereux Emmet, is consistently ranked one of the top courses in the world. Featuring wide greens, rolling fairways, and inventive hazards, this course was home to several U.S. Opens. This par-71, 7,571-yard course is recognized for its historic 18th hole. The USGA disliked the par-3 and varied the course layout over the years. Longer holes are considered more dramatic under pressure, though different configurations didn't pan out. Instead, the hole was entirely reversed and is now a 523-yard par-4.
The Gold Course isn't as notable as the Blue, though it has undergone renovations throughout the years. It measures only 6,844 yards but is considered just as difficult as Congressional's championship course.
Vegas Odds For 2014 Quicken Loans National
Our pro Vegas odds on the Quicken Loans National PGA Tour event at Congressional Country Club won't be made public until the CVS Caremark Charity Classic is over. This is typical for tournaments, given the best odds are incalculable until the Caremark Classic comes to a close. Please check back with us once our odds are up — our free picks should be available shortly after our Vegas odds.
Pre-Tournament Odds For 2014 Quicken Loans National - will display when available
Free Picks For 2014 Quicken Loans National
We'll have to wait for the CVS Caremark Charity Classic to conclude before posting PGABettingOdds.com free picks for the Quicken Loans National tournament at Congressional. Check back closer to the tournament date on June 26 for info on our value picks and other odds. Our dark horse pick is an underrated golfer with good odds to take home a win, not to mention a major payout for bettors.
When the 2 + 3-ball betting odds are available between rounds the tee times for the next round will also display beside them. This is accurate because the time shown is when wagers are no longer allowed which happens to be the exact same time the players hit the first box. If the tee times for the 2014 Quicken Loans National are not displaying then they are not available or the odds are still being formulated.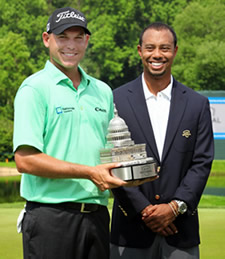 Bill Haas orchestrated a brilliant final 18 holes at Congressional to win the 2013 AT&T National by three strokes. The win was Haas' fifth victory on the PGA Tour, but it wasn't as easy as it looked. Haas admitted shortly after the win that he has struggled in the past with battling the mental aspects of the game.
But despite battling with thoughts in his head over the final nine holes, he executed his game plan to virtual perfection. He made sure that there was going to be no other winner but him by the time he walked up to the 18th green with a three-shot lead.
2013 AT&T National - Leaderboard
Bill Haas -12 (272)
Roberto Castro -9 (275)
D.H Lee -8 (276)
Jason Kokrak -8 (276)
Stewart Cink -7 (277)