Northwestern Mutual World Challenge - Vegas Odds, Picks + Tee Times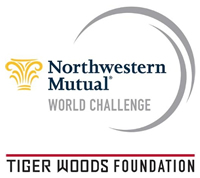 Many of the top players in the world will come out for the Northwestern Mutual World Challenge, which is hosted by Tiger Woods. While spectators will get to see some great golf during the week, the Tiger Wood Foundation is another big winner as the main charity. The 2013 Northwestern Mutual World Challenge will take place from Friday, November 29th, through Monday, December 2nd.
Sherwood Country Club is the host of the tournament, and is one of the most spectator-friendly courses in the world with views and holes that won't be seen anywhere else. It should really give the players in the field, including Woods, a challenge.
There will be plenty of coverage of the 2013 Northwestern Mutual World Challenge, despite the fact that it's not an official event. Golf Channel will be on the call for the first day of the tournament, with NBC picking up the weekend broadcast Saturday-Monday.
Jump To: Betting Odds | Free Picks | Tee Times & 3-Ball Odds

Sherwood CC, Thousand Oaks, California
Located in Thousand Oaks, California—not too far from Los Angeles—the Sherwood Country Club is generally regarded as one of the finest golf courses in the world. This hardly comes as a surprise, as it was designed by one of the sport's most esteemed players, Jack Nicklaus.
With a course par value of 72 and a total course yardage of 7,027, the course itself is truly stunning. If ever there was a golf course to make organic, symbiotic use of the natural terrain, surely it is this one. Not only is the course lined with mature oaks and local flora, but it also makes creative use of varying elevations, of waterfalls and streams, even of striking rock formations—all of it underscoring the environment's innate richness, even as it offers players fresh challenges with every hole.
Since 2006, the course has offered the first ever par-3 18-hole golf course and club, which boasts 14 replicated holes from other famed courses designed by Nicklaus. The Sherwood Country Club will host the 2013 Northwestern Mutual World Challenge.
Vegas Odds For 2013 PGA World Challenge
It's not a large field for the 2013 Northwestern Mutual World Challenge, but if you go by quality over quantity then it's got plenty. Tiger Woods will have double-duty as the host this week + being a competitor in the field at Sherwood Oaks Country Club in California. Woods and 17 other players will take to the course beginning on Thursday in an unofficial PGA Tour event.
Going down the list of players teeing it up include Woods, Rory McIlroy, Dustin Johnson, Steven Stricker, Matt Kuchar, Lee Westwood, Bubba Watson, and more. Check the full list below:
Northwestern Mutual World Challenge: Odds To Win

- found at Bovada on 12/2/2013
Top-5 Favorites To Win PGA World Challenge
Of course, in terms of the betting odds to win the 2013 Northwestern Mutual World Challenge the favorite it easily predicted. But what is Woods' payout this week and who are the golfers behind him that can give him a run? We've got the top-five favorites + a full table of the payouts for each participant, below.
Tiger Woods 9/4 (+225) - Woods is the odds-on favorite to win his event for the fifth time. His last win here came in 2011. Woods hasn't played since the Turkish Airlines Open and this will be only the third time since the Tour Championship that he will have played in a competitive tournament. This is standard operating procedure for the No.1 player in the world, who plays sparingly from September to February until Torrey Pines. At 9/4, Tiger Woods is paying out $2.25 profit for every $1 risked.
Rory McIlroy 6/1 (+600) - McIlroy is back to his winning ways, which is great for golf. A victory last week at the Australian Open over No.2 Adam Scott is sure to breed confidence. McIlroy birdied the 18th hole on Sunday for his only win to-date in 2013. It could be the start of good things to come for the former No.1 player in the world. Oddsmakers certainly think so and have placed him above everyone else but Tiger Woods.
Graeme McDowell 10/1 (+1000) - McDowell has owned this tournament at Sherwood over the last few years, winning two of the last three World Challenges. Whether it's the golf course or the small tournament format, there is something that McDowell really likes when it comes to this event. The defending champion is garnering 10/1 on the betting line this week.
Ian Poulter 16/1 (+1600) - Poulter comes in at 16/1 to win the Northwestern Mutual World Challenge. He finished runner-up at the WGC-HSBC Champions tournament back at the end of October and has been playing on the European Tour over the last few weeks. That includes a second runner-up finish at the DP World Tour Championship in Dubai.
Steve Stricker 16/1 (+1600) - Stricker in on a limited schedule by choice, but he won't miss an event hosted by a good friend. Anytime Stricker tees it up he is a favorite. There are few players as consistent overall and better on the greens. Even Woods calls Stricker the best putter in the world. A wager on Stricker pays out 16/1 this week.
Free Picks For 2013 PGA WOrld Challenge
Pick To Win Northwestern Mututal World Challenge - Going up and down the list you could see any one of these top-tier players in the field winning. Just outside of the top-five favorites sits Jason Day at 16/1. Day recently won the World Cup of Golf and has been playing great in the face of adversity with a family tragedy. PGABettingOdds.com believes that Sherwood Oaks sets up beautifully for a player like Day, and a 16/1 payout it worth the risk.
Darkhorse Value Pick To Win - It's hard to label a player as a 'darkhorse' in a field such as this. But a player who has been looking for something to turn the corner since the biggest victory of his career is Bubba Watson. He can hit it a mile, but the short game has been lacking of late. At 33/1, Watson is more than capable of putting together a stretch of four great days here.
Lock of the Week - Graeme McDowell plays as well as anyone in this event and really likes the course. There is a prop bet this week asking if McDowell will finish in the top-four (Bovada Sportsbook). At +200 (2 to 1) this wager has a generous payout for a player that has had a ton of success in this event. With history in his favor + the small field, asking if he finishes in the top 22.5% of the field seems pretty safe.
There is no cut this week so all 18 players will play the four days. Below you can find the pairings and the 2-ball lines updated daily provided by Bovada Sportsbook.
Among the pairings include Tiger Woods playing with Presidents Cup partner Matt Kuchar. Woods and Kuchar will go out in the middle of the pack at 1:25 pm ET on Thursday. Woods is a -200 favorite in the group to shoot the low score. Kuchar is set at +155.
Leading off the 2013 Northwestern Mutual World Challenge tee times is the grouping of Rory McIlroy and defending champion Graeme McDowell. McIlroy is coming off of that win in Australia and is a -155 favorite on the moneyline to be the low man. A bet on McDowell is paying out just over even at +110. Find all of the payouts for each player directly below, as bets can be made up until each tee time each day.
2012 - Northwestern Mutual World Challenge
Graeme McDowell won the Northwestern Mutual World Challenge for the second time, defeating Keegan Bradley by three shots. McDowell was seven shots clear of third place, and eight ahead of Tiger Woods. McDowell shots all four rounds in the 60s, and cleary has made Sherwood Oaks one of his favorite and most successful golf courses he has played.
2013 Northwestern Mutual World Challenge - Leaderboard
Graeme Mcdowell -17 (271)
Keegan Bradley -14 (274)
Bo Van Pelt -10 (278)
Jim Furyk -9 (279)
Tiger Woods -9 (279)