2014 Farmers Insurance Open - Vegas Odds, Free Picks, + Tee Times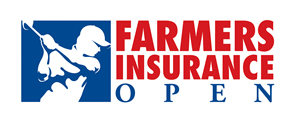 The 2014 Farmers Insurance Open will be one of the premier gatherings of the World's best golfers in this season's West Coast Swing. Of the events on that portion of the 2014 PGA Tour schedule, this tournament might have the best field of all. The majority of top-50 players in the world compete here, and that is expected again in 2014. After all, Torrey Pines is one of the most touted stops on the PGA Tour.
The 2014 Farmers Insurance Open will begin on Thursday, January 23rd, and end on Sunday, January 26th. National television coverage will be presented by the Golf Channel in conjunction with CBS. Golf Channel will have live action Thursday and Friday + CBS will broadcast Saturday and Sunday action.
Jump To: Betting Odds | Free Picks | Tee Times & 3-Ball Odds

Torrey Pines - South Course, La Jolla, CA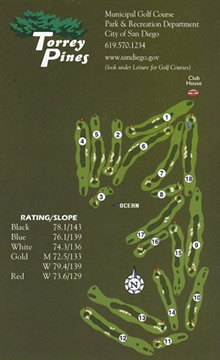 Owned by the city of San Diego and located in the beautiful community of La Jolla, California, the Torrey Pines golf course is an exquisite municipal golf facility, its 36 holes sitting along coastal cliffs and offering players an unforgettable view of the mighty Pacific Ocean.
Opened in 1957, the Torrey Pines course actually has two separate courses, the North and the South, which were both designed by William F. Bell. The South Course is arguably the most famous, as it serves as the host venue for the Farmers Insurance Open. (The Open actually uses both courses for its initial rounds, but only the South for the final two rounds.) Rees Jones redesigned the South Course in 2001. The courses are both unique for their use of deep ravines, their majestic views of the ocean, and, in the end, their truly classic championship holes. (Indeed, this is the famed location of one of golf's most memorably heated competitions, the epic 2008 U.S. Open.)
The South Course is a par-72 with total course yardage of 7,607.
Vegas Odds For 2014 Farmers Insurance Open
The Farmers Insurance Open is definitely a tournament to look forward to. Tiger Woods will be on hand to defend his tournament title. In addition to that, Woods' biggest rival Phil Mickelson will tee it up as well. This is the first competitive event that either will play in 2014. That certainly makes this one special.
But Woods and Mickelson don't make up the field alone. In fact, there are plenty of huge names ready to tackle Torrey Pines. Among them include Bubba Watson, Lee Westwood, Hunter Mahan, Jordan Spieth, and Brandt Snedeker. Those names themselves would create a fantastic field. Below, get the top-five favorites as installed by Bovada Sportsbook to win the 2014 Farmers Insurance Open.
During the week of the event, PGABettingOdds.com will have a comprehensive write up of the top favorites established by oddsmakers, plus feature a 2014 Farmers Insurance Open odds table for the payout for every golfer in the field prior to the first round.
Farmers Insurance Open Pre-Tournament Betting Lines

- odds found at Bovada on 1/20/2014

In-Progress Odds To Win Farmers Insurance Open

- only display between rounds (when available)
Favorites To Win Farmers Insurance Open
Tiger Woods 5/2 (+250) - Woods is far and away the favorite this week at Torrey Pines. His 5/2 payout is well in front of the next-closest players on the list. Woods won at Torrey Pines last year in his debut. He hasn't played in a competitive round in a couple of months, but all signs indicate that he is ready to go. A wager on Woods to win or even to finish in the top-5 / 10 is almost money in the bank this week.
Phil Mickelson 12/1 (+1200) - The disparity between Woods and Mickelson is bigger than usual. But when looking at the numbers, oddsmakers err on the side of caution. But that could benefit bettors this week. A top-two favorite in a big tournament like this being set with 12 to 1 odds (+1200) is a pretty big statement. Mickelson is plenty capable of going low at Torrey this week in his first event in 2014.
Brandt Snedeker 20/1 (+2000) - Snedeker has a history of fast starts on the PGA Tour over the last couple of seasons. If that trend holds true, expect him to be in contention on the weekend. Snedeker is not intimidated by the two names at the top, and won early a couple of times last season. He finished second to Woods last year in this event.
Bill Haas 22/1 (+ 2200) - Haas is coming off of a T6 performance at the Humana Challenge last week. His 23-under par total means he made plenty of birdies and should have plenty of confidence coming into the week. Haas is a player that is built for Torrey Pines. The longer hitters on Tour tend to perform well here and that is especially true on the South course where the weekend will be played.
Jordan Spieth 28/1 (+2800) - After his runner-up finish at the Hyundai Tournament of Champions, Spieth missed the cut at the Sony Open. This was not something that PGABettingOdds.com saw coming. But he's had a couple of weeks off to regroup and get back on the right track. Expect Spieth to come out firing at Torrey Pines. This will be a big test for him given the company he'll be up against.
Free Picks For 2014 Farmers Insurance Open
Pick To Win Farmers Insurance Open (shocker alert!) - The easy pick here is Tiger Woods. He's the defending champion, and the big favorite. But coming out of the gate we don't think he gets it done here. If not Woods, then who else could it be? It's a good question, but a player who ended 2013 on a tear was Jason Day. He posted a couple of international victories and is swinging well. Day has the game to win at Torrey Pines, and at 33/1 it would be a great margin of profit for those who take him.
Darkhorse Value Bet - At 40/1 Rickie Fowler is an interesting pick this week. Fowler worked hard in the offseason with new swing coach Butch Harmon. He definitely has a new-look swing but it's a solid one. Fowler might be able to put it all together right away after finishing T-33 at the 2014 Humana Challenge while posting -16. If he can get off to a good start and build confidence early... look out!
Morning and afternoon tee times + pairings will be displayed here for the first round and second rounds of the 2014 Farmers Insurance Open. Upon the release of the pairings for the first two days, oddsmakers will then release 3-ball betting lines. These can be seen here, plus we will discuss some of the popular pairings for the first two days. 3-ball odds + 2-ball weekend odds will be updated automatically below.
For now, please take a look at some head to head matchups which place odds on each side of a mythical golfer vs. golfer showdown such as Tiger Woods vs. Phil Mickelson.
Update: Pairings for the 2014 Farmers Insurance Open have been released which means 3-ball betting lines have been formed.
Of course, the topic dominating the conversation is Tiger Woods. The defending champion is paired with two rising stars, Jimmy Walker and Jordan Spieth. This threesome will go out at 10:40am local time (1:40 pm ET). As expected, Woods is the assertive favorite (-140) to shoot the low round of the three on Thursday. Fedex Cup points leader Jimmy Walker pays out at $3 for every $1 bet while Jordan Spieth is slightly under Walker at +280, every dollar risked wins $2.80.
Hitting the course about an hour before Tiger (9:30am local, 12:30pm ET) will be Phil Mickelson, another player with a great history on this course. You would have to be considered one of the best seeing that Phil is paired with Bubba Watson and Jason Day, two extremely talented players, and he is still the favorite at 5/4 (+125) vs. +200 for Jason Day and +220 for Bubba Watson.
Look below to see the rest of the pairings. This page will continue to update as new 3-ball betting lines are released between rounds. In doing so, the time these groups will tee off (time when the wager becomes unavailable) will be shown beside each. As they hit the course, they will be removed from the page and only those waiting to begin their day will be shown.
2013 Farmers Insurance Open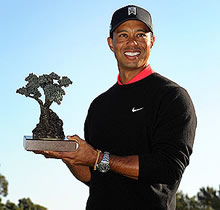 Tiger Woods won for the eighth time at Torrey Pines last year, capturing his first of five PGA Tour titles in 2013. It was the first appearance for Woods in 2013, which was prolonged due to inclement weather that forced a Monday finish.
By the start of Monday, it wasn't a matter as to whether Woods would win, but by how much? He carried a six-shot advantage through 11 holes, and had just seven more to play. He ended up with a four-shot win over Brandt Snedeker, closing with a final round score of 72.
The victory at the 2013 Farmers Insurance Open was Woods' 75th of his career, and put him just seven victories behind the all-time lead of 82 by Sam Snead at the time.
2013 Farmers Insurance Open - Leaderboard
Tiger Woods -14 (274)
Brandt Snedeker -10 (278)
Josh Teater -10 (278)
Jimmy Walker -9 (279)
Nick Watney -9 (279)