2014 Northern Trust Open - Vegas Odds, Free Picks, + Tee Times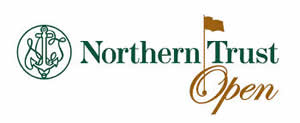 The 2014 Northern Trust Open will get going from Pacific Palisades, California on Thursday, February 13th from Riviera Country Club. Barring any bad weather like experienced at Pebble Beach last week, play should conclude on Sunday, February 20th.
Over $6.7M will be up for grabs and this should attract some of the better players on the PGA Tour. The European players haven't really made an appearance yet but the level of competition will still be high. If you want to check out the action as it unfolds, coverage of the 2014 Northern Trust Open will be split between Golf Channel and CBS; GC carries Thursday + Friday while CBS does the final two rounds.
Want to learn more about this tourney, the odds and where to bet? This guide to the 2014 Northern Trust Open should help you find all kinds of useful information brought together by our staff here at PGABettingOdds.com, the leader when it comes to wagering on pro golf online.
Jump To: Betting Odds | Free Picks | Tee Times & 3-Ball Odds

Riviera CC, Pacific Palisades, California

Now here's a true Hollywood golf classic: Established in 1926, the Riviera Country Club is located in Pacific Palisades, California, a community within the general Los Angeles area. Designed by renowned golf course architect George C. Thomas Jr., the course has long served as the primary host for the PGA Tour's Northern Trust Open. The course's history also encompasses the hosting of three other tournaments—the U.S. Open in 1948 and the PGA Championship in both 1983 and 1995.
The character of the course can be described in terms of breezy ocean weather and old Hollywood glamor; this is a true movie star's golf course, handsomely laid out and accommodating without being anything less than a real challenge for players. It comes as no great surprise that the course's former proponents include Humphrey Bogart, Charlie Chaplin, and Douglas Fairbanks.
As for the gameplay itself, the 18 holes here have a total par value of 71, and the course yardage is 7,279. The course's scenery is marked by the Santa Monica Mountains towering nearby, as well as the close proximity of Sunset Boulevard.

Vegas Odds For 2014 Northern Trust Open
The early betting lines for the 2014 Northern Trust Open are already on the board and available for wagering at several online sportsbooks including at Bovada (shown below). The favorites coming out of the gate are going to be names that you know as this field will include names like Dustin Johnson, Jordan Spieth, Webb Simpson, Justin Rose, Matt Kuchar, Hunter Mahan, Jimmy Walker and others.
The Northern Trust Open odds to win will be available right up until the start of the tourney on Thursday morning as well as overnight when the previous round has been completed. Additionally, props for this tourney will be available that include top-5 + top-10 finishes, top finishing International player and more.
Northern Trust Open Pre-Tournament Lines

- odds found at Bovada Sportsbook on 2/10/2014

In-Progress Odds For Northern Trust Open - display between rounds if available
Top-5 Favorites To Win Northern Trust Open
Dustin Johnson 14/1 (+1400) - This one is pretty easy to explain. Johnson has been playing well in the beginning of the year, nearly notching a win last week at Pebble Beach. But the T2 performance is enough to anoint him as the Northern Trust Open favorite. Johnson has been striking the ball very well, but it's been his putting that he put him into contention. If he continues to do that, he will have a chance to win this week.
Hunter Mahan 18/1 (+1800) - Mahan has back-to-back top-six finishes on the PGA Tour. First it was a T4 at the Waste Management Phoenix Open. Then it was a solo 6th place at Pebble Beach. Mahan is back to hitting fairways which is critical for him to get into contention. Riviera has some wider fairways and is a very traditional golf course. It should set up well for him to make plenty of birdies.
Jimmy Walker 18/1 (+1800) - Walker became the first multi-winner on the 2013-14 PGA Tour season. His victory at the Pebble Beach Pro Am has put him in the conversation for the first half player of the year already. Walker's big lead in the FedEx Cup standings can be increased with a second-straight win this week. There is no doubt he has the confidence going. Maintaining focus after a big win can be difficult though.
Jordan Spieth 18/1 (+1800) - Like the three players above, Spieth also played well at Pebble Beach. Spieth tied for 4th place; he finished at eight under par over the course of the four days. Spieth has four top-20 finishes in five events this season. His only missed cut came at the Sony Open. If Spieth makes the cut he puts himself in contention. But it's about making the move at the right time on the weekend when the pressure is on. This is something that he will learn and mature with as his career moves forward.
Webb Simpson 18/1 (+1800) - Simpson did not play at Pebble Beach last week, but he did play in Phoenix at the WM Phoenix Open and recorded a top-10 finish after entering the week as one of the favorites to win. Overall, Simpson sits 5th on the FedEx Cup point standings currently and has already come close to $2 million in earnings in five events without grabbing a win yet...
Free Picks For 2014 Northern Trust Open
Pick To Win Northern Trust Open - Riviera Country Club brings plenty of players into contention. Looking at the top favorites and some of the others down the list there is one name that jumps out to us a bit off the radar. That would be Matt Kuchar. At 22/1 this week, a wager on Kuchar would be a nice margin of profit. Kuchar is a top-10 favorite. He hasn't played since the Sony Open in January. But in his two events in Hawaii, Kuchar finished T6 + T8. All things considered, we think Kooch is going to come out firing this week and get his first win of this young PGA season.
PGABettingOdds.com Darkhorse Value Bet - At 66/1 this week, Rickie Fowler is going through some swing changes. But those changes are bound to pay off soon. We know that Fowler can win against the best in the world. What's really appealing this week though is that 66 to 1 payout. A $10 bet could profit close to $700 with a victory. The risk vs. reward is there and we think that a bet on Fowler might be worth that small risk for the big return.
The PGA Tour likes to put some notable groupings out there over the course of the first two days of action. Expect there to be some newsworthy pairings to make make mention of here. We will have a write up of of some of the groups to watch Thursday and Friday, plus include information on the 3-ball betting lines that have been set for the first round. Then, updated 3-ball action will be created daily.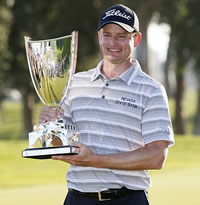 The 2013 Northern Trust Open had to go more than 72 holes before a winner was determined. It was a two-man playoff between John Merrick and Charlie Beljan, both of whom finished at 11-under par after four days. Beljan closed with a final round 67 to jump up into the playoff with Merrick, who fired a 69.
Merrick won on the second playoff hole, winning a PGA Tour event in the area that he grew up. He excelled as a collegiate athlete at UCLA as an individual Pac-10 champion, while also graduating from a local high school close by Riviera CC. That made the victory even more special for Merrick. It was his lone victory in 2013, but definitely a memorable one.
2013 Northern Trust Open - Leaderboard
John Merrick -11 (273)
Charlie Beljan -11 (273)
Fredrik Jacobson -10 (274)
Bill Haas -10 (274)
Charl Schwartzel -10 (274)