2014 PGA Championship - Vegas Odds, Free Picks, + Tee Times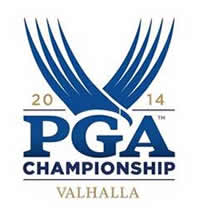 The PGA Championship returns to Valhalla Golf Club in Louisville, Kentucky in 2014. This is the site of Tiger Woods' triumph during that historic 2000 season which was capped off by a win in a playoff over Bob May. The 2014 PGA Championship will take place beginning on Thursday, August 7th and conclude on Sunday, August 10th.
At this point in the season three Major Championships have been played, which makes the PGA Championship unique in that is the final chance for players for get a Major win for the year. It's a good bet that the PGA will stretch Valhalla to one of the longest Major Championship golf courses in history. It's a relatively young golf course, opening in 1986. Valhalla has hosted two PGA Championships (1996, 2000) and a Senior PGA Championship (2004). The PGA of America actually has a stake invested in the golf club, which certainly makes it an appealing venue to host the championship.
For complete coverage of the final Major Championship in 2014, TNT will combine with CBS during the week to bring you the action. TNT will have Thursday and Friday coverage, along with early coverage on Saturday and Sunday. CBS will come in on the weekend to bring the final play of the day.
Live Network Television Coverage:
Thursday:

1:00pm - 7:00pm ET

Friday:

1:00pm - 7:00pm ET

Saturday:

11:00am - 2:00pm ET

2:00pm - 7:00pm ET

Sunday:

11:00am - 2:00pm ET

2:00pm - 7:00pm ET
Jump To: Betting Odds | Free Picks | Tee Times & 3-Ball Odds

Valhalla GC, Louisville, Kentucky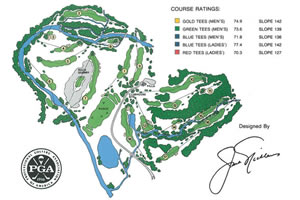 Located in the Bourbon belt, Valhalla Golf Club has hosted one of four PGA Championship events since 1996. It was designed by golf legend Jack Nicklaus in the 80s and was named after Norse mythology. It is coincidentally the site of major rivalries and nail-biting tournaments like the 2008 Ryder Cup.
The course flows over 286 acres of Kentucky hills. In recent years, it has undergone structural revisions to update drainage and irrigation to keep up with championship golf standards. Now considered the best course in Kentucky and one of Nicklaus' finest creations, Valhalla Golf Club is again hosting a PGA Championship.
The par-72 clocks in at a grueling 7,540 yards. The 7th hole is a lengthy par-5 that requires a keen eye for elevation change, pin location, and a sure two strokes to the green. Featuring bentgrass putting, grassy hollows, bluegrass rough, and natural hazards, golfers are challenged on every level when they tee off at Valhalla.

Vegas Odds For 2014 PGA championship
We have the first release of this week's PGA odds and guess who is favored to win?... If you guessed Rory McIlroy then give yourself a gold-star because it is indeed the Irishman that checks in with 5 to 1 (+500) odds to win the 2014 PGA Championship at Bovada. If McIlroy continues his hot streak then it will only take a $1 wager to win $5 in return. Yes, there are a lot of other great golfers out there that pay better but it is hard to argue with the success Rory has had the last few weeks including last week's win at the 2014 WGC Bridgestone Invitational.
Being that this week is a Major Championship it is fair to expect that there will be a lot of extra betting lines including PGA Championship prop wagers, bets for head-to-head matchups and much more. Please look below the pre-tournament lines to see updated odds as well as betting by round, etc. A lot of the betting will conclude with the start of the tournament on Thursday morning however there will still be opportunities to make wagers between rounds - this page is setup to show those opportunities.
2014 PGA Championship Pre-Tournament Lines

- found at Bovada on 8/4/2014

Alternate + In-Progress Odds For PGA Championship - display before tourney + between rounds
Other Majors + Big Events: The Masters | U.S. Open | British Open | 2014 Ryder Cup
Free Picks For 2014 PGA Championship
PGABettingOdds.com's Pick To Win - There have been two players who have been playing very well of late. Rory McIlroy of course, and the other being Sergio Garcia. Time and again the question has been raised as to whether or not Garcia will ever win a Major. We picked him last week to win the WGC Bridgestone Invitational, and he finished second. Rarely do we pick the same golfer two weeks in a row, but an exception is being made this week. At 16/1, a bet on Garcia is a nice margin of profit for a player who hits it as well as he does, is playing confidently, and who's putting is quickly becoming a strength.
Darkhorse Value Bet - Tiger Woods. Wait what? Yes, at this point Woods has to be considered a dark horse to win the 2014 PGA Championship, if he even plays at all. Bovada has pegged Woods at 33/1, which is one of the largest profit margins for Woods prior to an opening round in probably two decades. If Woods tees it up, we can assume his back will be healthy, and that he has the potential to win Major Championship number 15.
The groupings and tee times for the 2014 PGA Championship were actually made available last week while the Barrcuda Championship and WGC event was going on. Initially Tiger Woods was supposed to be paired with Phil Mickelson however that has since changed with Woods' status in doubt. Still, we have the 3-ball betting lines for this week shown directly below which also includes the tee time for the players in that particular grouping. This tool will update between rounds as odds become available.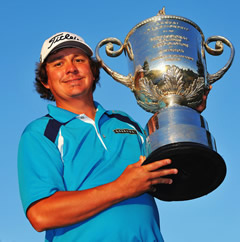 At the 2013 PGA Championship, Jason Dufner finally seized his Major moment in an overall effort which included a brilliant 2nd round 63 that tied a scoring record in Major Championships. This victory comes after Dufner just missed out on winning the PGA Championship in 2011 when he lost in a playoff to Keegan Bradley. But despite the loss, one might say that was the event that really launched his career as he carried momentum over into the 2012 PGA season where he got the first two wins of his career.
Also finishing in the top-5 were the 2013 Masters Champion Adam Scott, Jonas Blixt, Jim Furyk as well as Henrik Stenson who finished three shots back in third place. Stenson would soon go on to win the 2013 FedEx Cup Championship.
2013 PGA Championship - Leaderboard
Jason Dufner -10 (270)
Jim Furyk -8 (272)
Henrik Stenson -7 (273)
Jonas Blixt -6 (274)
Adam Scott -5 (275)