2013 PGA Championship Betting Odds + Info, Tee Times, Coverage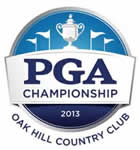 The season's final Major Championship, 'Glory's Last Shot' gets underway in the second week of August. The 2013 PGA Championship will take place at Oak Hill Country Club in Rochester, New York. The PGA Championship will get underway beginning on Thursday, August 8th, through Sunday, August 11th.
TNT will be in on the coverage during the Thursday and Friday rounds as become the custom for the final Major Championship of the season. Then for the weekend coverage, CBS will take it home through completion of the event on Saturday and Sunday until the 72nd hole or beyond during Sunday's final round.
Jump To: Betting Odds | Free Picks | Tee Times & 3-Ball Odds

As one of the four Majors on the PGA Tour circuit, the PGA Championship has the distinction of being the final one on the calendar every season. That certainly makes this tournament unique in that sense. Players have one last chance to win a Major championship, and for the great players in the golf, that is how you are ultimately measured.
The PGA Championship field is tough and deep, and the course set ups are routinely challenging. They are typically some of the longest layouts that the PGA Tour will play on all season long. That is not really the case at Oak Hill, which measures in at just under 7,200 yards. It is only a Par70 though with just two Par 5s on the course. And the PGA Tour can still choose to stretch the course out if they choose.
Oak Hill Country Club has hosted two previous PGA Championships, the last of which came in 2003 when Shaun Micheel played his way to his first and only Major win.
What Happened In 2012?
At the 2012 PGA Championship, Rory McIlroy ran away and hid from the field, cruising to an eight-shot win at Kiawah Island in South Carolina. McIlroy shot a final round score of 6-under par 66 on Sunday to really extend that lead and take away any doubt that he would not be the winner. There wasn't much drama, but it was fun to just sit back and admire his dominant performance.
The victory in 2012 was already McIlroy's second Major Championship win in his young career. His win at Kiawah along with his U.S. Open win have come by a combined 16 shots... he smoked the field. Will Oak Hill yield another Major-win for Rors? We'll just have to wait and see.
Odds To Win The 2013 PGA Championship
Major Championships are always a great week in golf, but it jumps up to an even bigger level when the best players in the world are firing on all cylinders. This happens to be the case as we head into the week of the 2013 PGA Championship from Oak Hill Country Club.
Tiger Woods is fresh off of a year 2000-type performance in which he won the WGC Bridgestone Invitational by seven shots on Sunday. This included a round of 61 on Friday to grab the big lead and preserve it through the weekend.
Woods will now tee is up at Oak Hill on Thursday. Expectations haven't really gotten any higher though. For Woods, they are sky high coming into a tournament regardless.
The No.1 player in the world has separated himself from the pack, though other top players are behind, including Major winners in 2013.
Odds To Win 2013 PGA Championship
Tiger Woods 7/2 (+350) - Will this finally be the Major that Woods breaks through an wins? It's been more than five years since his last victory. Woods has five wins in 2013, and finished in the top-10 in every Major. Oak Hill Country Club will be a tough test, but if Woods drives the ball there like he did at Firestone, than he should be in contention. PGA Championship Odds have set Woods atop.
Phil Mickelson 12/1 (+1200) - We aren't that far away from talking about Phil Mickelson trying to win his third-straight Major Championship this week. He finished second at the U.S. Open where he had the lead, then he won the British Open. Mickelson has won the PGA Championship before in his career. Like Woods, it will come down to the fairway and second cut misses as to how well Lefty will play.
Adam Scott 18/1 (+1800) - Scott opened the Major Championship season with a win, so why not close it out with one as well? Scott has certainly been a name right near the top of leaderboards for Majors over the last few years. At PGABettingOdds.com + at several online bookmakers, we don't expect this week to be any different at Oak Hill - odds have him at 18/1.
Henrik Stenson, Justin Rose, Brandt Snedeker 25/1 (+2500) - All three of these players have a great shot to win this week. Let's start with Stenson. He has finished second in each of his last two tournaments, dating back to the British Open and the WGC Bridgestone invitational. Stenson is hitting the ball better than any player in the world right now, Woods included. As for Rose, he hasn't played very well since his U.S. Open win, but then again it's not easy to cope with after feeling such massive success. Expect Rose to settle down and put together some good rounds this week. Good things can also be expected from Brandt Snedeker, who won two weeks ago at the RBC Canadian Open. Snedeker is still looking for that first Major win, and oddsmakers think he has what it takes to get it done this week.

2013 PGA Championship Betting Odds

- lines found at Bovada on 8/5/2013
PGA Championship Winner - We haven't gone with Woods to win an event since the first half of the season, but the timing feels right to go with him now. We missed the boat last week, but all signs are pointing to Woods putting it together and winning his 15th Major Championship. This would be the icing on an already fantastic 2013 season for him, with five wins already. Woods is in complete control of his approach shots into the greens, which is very important in a Major.
Darkhorse Value Bet - We were surprised to see Jason Day all the way back at 50/1. Day had chances to win the Masters and U.S. Open this year, holding final round leads at various points on Sunday in both. He didn't contend at the British Open but that's a different kind of golf. We are back at Oak Hill, which is similar to Augusta or Merion. Expect Day to contend, and at 50/1 we think he is a great value wager to take this week.
Major Championships are known for having a few great groupings together to watch during the first two rounds of the competition. PGA Championship tee times will be released on the Monday or Tuesday of the tournament week, so we still have some time before we can inform you on these.