2013 WGC-Accenture Match Play Championship Odds + Event Info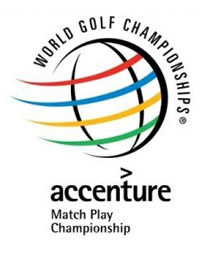 The top-64 players in the world will be on display at the Ritz-Carlton Golf Club at Dove Mountain in Marana, AZ for the WGC-Accenture Match Play Championship. Beginning on Wednesday, February 20th this bracket style match play tournament will run through Sunday, February 24th.
All early round action (Wednesday thru Friday) will be shown on Golf Channel while weekend matches will be split between GC and NBC. The final match (Sunday) will begin on Golf Channel at 9am ET for the first 18 holes and will resume on NBC at 2pm ET for the final 18 holes.
WGC-Accenture Match Play Championship
This is one of the most unique events in golf, as plays break away from the traditional stroke play format as we see in every other tournament throughout the year, and go to match play. Match play is head-to-head competition, where there is just one player competing against another.
The field starts with the top-64 players in the world. If one or more can't make the event, the 65th-ranked player would fill in, and so on down the line. If a player wins, they advance to the next round, which goes from 64 to 32, then from 16, 8, 4, and finally 2 for the championship match. The championship final is a 36-hole event, which takes place on Sunday.
At 7,800 yards, Ritz-Carlton Golf Club is one of the longest courses on the Tour every season. The setting in the desert is one of the striking features of this course, as players deal with the natural hazards and difficult lies. But the lush green fairways and greens really make this scene in golf one of the greats. There are an extra 50 FedEx Cup points for this event because it is a World Golf Championships event, with 550 total points to the winner, just 50 points less than a Major championship.
2013 WGC-Accenture Match Play Championship
It will be close to a fully-stocked field this week at the Accenture Match Play tournament with 62 of the top-64 players in the world playing, as well as No.65 and No.66. The field is broken down into four brackets of 16 players in each one seeded 1-16.
As the No.1 ranked player in the world, Rory McIlroy is the No.1 overall seed. But there are in fact four total No.1 seeds. Tiger Woods, Luke Donald, and Louis Oosthuizen are the other three top seeds. The seeds are done completely by the World Golf Rankings.
This field certainly has no shortage of big names, and is the deepest field we have seen all year on the PGA Tour so far. The Accenture Match Play is a unique event on the Tour in the sense that players match up against one other player playing head-to-head in a non-stroke play event.
Some of the other high seeds to take note of include Adam Scott, Lee Westwood, Bubba Watson, defending champion Hunter Mahan, Justin Rose, Charl Schwartzel, Matt Kuchar, and more.
What Happened In 2012?
It was a great championship matchup at the 2012 Accenture Match Play, with Hunter Mahan taking on Rory McIlroy. In the end, it was Mahan who bested McIlroy 2 & 1 in the 36-hole final, knocking McIlroy out on the 35th hole to get the biggest win of his career. Mahan navigated his way through five days of competition, which included five victories over the course of five matches in the single elimination tournament.
Odds For 2013 WGC-Accenture Championship
The betting lines for the WGC Match Play Championship are out and available for betting at various sportsbooks however the lines shown below can be found at Bovada. These lines are up early this week but be sure to note these odds will come down early on Wednesday as this event gets started a day earlier than normal four-day tournaments.
The betting odds this week can look a bit different from what we're used to seeing because match play is a much different format than stroke-play. Some players have a history of success with match play and that success will be reflected in the odds to win and others.
Also, head-to-head betting odds for this event are very popular amongst bettors. The bracket style format really makes it easy for fans to follow as they would the NCAA Tournament or other bracket based tournaments. These will be up each day prior to the start of the round, Wednesday's odds are shown at the bottom of this page.
Top-5 Favorites
Rory McIlroy might be the overall #1 seed for the 2013 Match Play Championship but he is second on the list of favorites to win behind Tiger Woods. Woods, a three-time winner, has not won the event since 2008 but his 10/1 odds are slighty better than that of the #1 ranked player in the world. Woods will play his first round match versus Charles Howell III which is no gift at all.
Coming in second at 12/1, Rory McIlroy made it all the way to the championship match last year only to come up short to Mahan for a runner-up finish. He will definitely play a factor and is almost a lock for the second round as McIlroy will play the little-known Shane Lowry to open the tourney.
The top-5 is rounded out by three players tied for third favorite in the odds.
Ian Poulter won the match play event back in 2010 but struggled in 2011 and 2012 losing in the first round both years. Still, Poulter is widely regarded as a great match play player, and gets the respect for it as shown by his 16/1 odds. A #3 seed in 2013, Poulter will make his bid to for a second championship starting with Stephen Gallacher on Wednesday.
Two years removed from his 2011 championship, Luke Donald is looking to jump back into the winners circle this year and his #1 seed in the Snead bracket should help. And even though Donald just made his PGA debut last week at Riviera, he is getting 16 to 1 for another match-play championship win. Those odds could change leading up to his first round matchup vs. Marcel Siem.
Charl Schwartzel, the #3 seeded player in Rory McIlroy's bracket (Jones bracket), rounds out the top-5 with yet another 16 to 1 payout ahead of the last #1 seeded player (Louis Oosthuizen 22/1). Though he has never won this tournament before and having a potential match with McIlroy before the semis, oddsmakers feel confident he could go deep and potentially win. Russell Henley stands in Schwartzel's way to get his run started in the opening round.
It's hard to concentrate on just the top-5 because there are so many other big names but you can see the full field of odds for the 2013 WGC Accenture Match Play Championship below. Click on any of the player's names to go to Bovada to see the latest odds and make bets if you feel inclined. Keep checking back after the finish of each day of play as we will have the current odds for what is remaining of the field.
Free Picks For WGC Match-Play Championship
The Winner - This is going to be the event where Tiger Woods gets completely back on track, and reasserts himself as the best player in the world. PGABettingOdds.com is hoping for a Woods/McIlroy final, but that is asking for quite a bit. This is a week where we aren't going outside of the box. We picked against him at Torrey Pines, which proved to be dumb. Woods has a history of winning here, and a great match play record. He appears to be playing well, and will have a great shot a winning.
Darkhorse - Martin Kaymer lost to Luke Donald in the championship final two years ago. Kaymer is a player who when on, he is arguably the best in the world. The challenge with Kaymer is that he goes cold every now and then. We are banking on him catching a hot streak and stringing together some victories in matches to build confidence, and potentially even a win. He is set with odds at 40/1 this week which is a nice payout.
Jones Bracket Prediction - Rory McIlroy
McIlroy's overall odds to win the Match Play are 12/1, but to make it to the Final Four and win the Bobby Jones bracket is paying out 4 to 1. McIlroy's recent success at Dove Mountain where he reached the championship match certainly is a driving force behind this pick, and we think he will get back to at least the semifinals.
Player Bracket Prediction - Lee Westwood
Didn't see that coming, did you? Westwood is the No.3 seed in the Gary Player bracket behind Tiger Woods and Jason Dufner. Woods might be the trendy pick, but he has struggled off the tee quite a bit at Dove Mountain in the past, and his driving is still a bit of an issue. With the weather conditions predicted to be scattered during the week, Westwood is equipped to handle it, and we think he will get through to the semifinals. Westwood is slated at 8/1 to reach the semifinals and win the Gary player bracket.
Hogan Bracket Prediction - Sergio Garcia
Garcia has a history of success in match play, most notably at the Ryder Cup. His game at the end of 2012 looked as good as it's ever been, and we think that he can get through a wide-open bracket and reach the semifinals, which would match him up with the winner of the Gary Player bracket. A wager on Garcia to win this bracket is paying out at 15/2 at Bovada Sportsbook.
Snead Bracket Prediction - Adam Scott
Scott was so close to turning a Major corner last year at the British Open, but let a huge lead get away from him. Rather than get discouraged, we think he learned from this. That was highlighted by a win in Australia at the end of 2012. Scott doesn't have a great record at the Accenture Match Play, but we think this bracket presents some good matchups for him. A bet on Scott to win the Snead quarter is paying out at 13/2.
First Round Head-To-Head Upset Pick - #12 David Toms (+145) over #5 Nick Watney (-185)
David Toms won this tournament back in 2005, and even since then has a great match play record. Experience is great in a format like this, and we think that Toms will come out and pull off the upset of Nick Watney in the first round and knock out the #5 seed. Watney is set as a -185 favorite on the moneyline while Toms offers a more favorable +145 payout, $1.45 net profit for every $1 risked.
Match Play Championship Brackets
Look directly below to see all the brackets and the matchups for Wednesday's round. Players are shown according to seed. Know that the Snead bracket takes on the Player bracket and the Jones bracket takes on the Hogan bracket in the semi-finals.
Also shown are the head-to-head odds for the Match Play Championship matches. These are available to wager at Bovada and are current as of Monday, February 18th, 2013.
Bobby Jones Bracket - Wednesday Matchups
Ben Hogan Bracket - Wednesday Matchups
Gary Player Bracket - Wednesday Matchups
Sam Snead Bracket - Wednesday Matchups