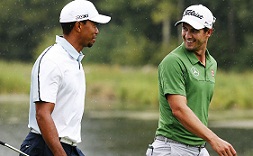 There have been 18 players ranked No.1 in the world since the Official World Golf Rankings were introduced in 1986.
It looks like we are on the verge of the 19th player, despite the fact that he will not even be teeing it up this week at the Byron Nelson Championship.
Adam Scott entered the PLAYERS Championship on Thursday needing just a tie for 16th place to leap in front of Tiger Woods as the No.1 player in the world. Scott recorded a T38 finish, well back of the finish he needed to assume the ranking. That however doesn't appear to matter if the predictions are true.
Woods has not been able to play since undergoing back surgery at the beginning of April. He missed the Masters for the first time in his career, and was unable to defend his PLAYERS Championship victory from a year ago. Woods has been the No.1 player in the world for more weeks than any other player, and will get one more week before Scott likely assumes the throne.
There were four players in total who had the chance to the top of the golfing ladder at the PLAYERS Championship. They were Scott, Matt Kuchar, Bubba Watson, and Henrik Stenson. Kuchar is the only player of the four teeing it up this week at the Byron Nelson Championship, but even with a win he wouldn't take over the top spot this week.
A decade ago, it looked like Scott would eventually become the No.1 player in the world, or at the very least the biggest challenger to Woods. After years of underachieving, Scott is back on top and is one of the most consistent players in the world. That play resulted in a victory at the Masters in 2013, his first Major Championship win.
Scott has arguably the best swing in golf. It's certainly the most appealing visually. It's been the putting that has held Scott back. Of course, come next year he will not be able to use his current anchored putter. He has yet to change however.
Woods is still sidelined and likely won't be back before the U.S. Open. The more likely scenario is a return for the British Open and PGA Championship. If he can't return by then he likely wouldn't qualify statistically for the FedEx Cup Playoffs. Effectively, Woods' season would be done.
Scott will likely carry the No.1 ranking into the U.S. Open from Pinehurst, where he will be tabbed as a favorite to win.