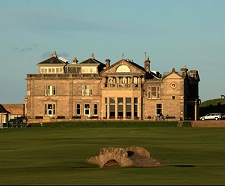 Gentlemen Only Ladies Forbidden.
That's one of the acronyms that's been attached to golf in times when the issue of men and women have come into play over the past.
First is was Augusta National, which received plenty of attention for not allowing women members. Then they admitted Condoleezza Rice as the first female member ever.
Now, the R&A (Royal & Ancient), the governing body of golf in Europe has asked for a potential vote in September to allow female members.
St. Andrews, where the R&A is based, is considered the home of golf and has a very historic significant within the game. This vote could be huge in terms of growing the games for women over in Europe and as well as elsewhere around the world. The current members of the R&A are being asked to support the proposition set forward by it.
While it seems rather crazy that in this day and age people are still not admitted based on gender, the fact of the matter is that golf clubs around the world still have a strict policy. Even in the United States, there are golf clubs that do not permit women on the grounds of the club. Augusta received a lot of attention because the golf course is home to the Masters. But there arem any where PGA Tour events are not held that invoke the same policy of male membership only.
If golf wants to continue to move forward, decisions like the one made the R&A are very important. You would think that governing bodies want to make the game as accessible as possible to all. Of course, there are other issues affecting golf that is hindering its growth. Such issues include the length of a round and how much it costs to play the game.
Golf remains a very expensive sport to play, which automatically limits those that will have the capability to play.
And let's not forget that the game is extremely difficult to play as it is. Adding things like this would tend to decrease those numbers.
The R&A has certainly made the right decision to move this to a vote and try to open up the membership base. This could be the start of something great, and come July at the British Open there should be plenty of support for it.