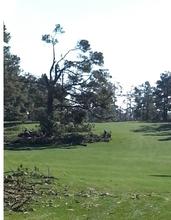 Arguably the most-famous tree in golf was removed this past weekend thanks to a series of ice storms that made their way through the Southeast. Going forward, Augusta National and The Masters will be without the Eisenhower Tree.
Made famous thanks to former President Dwight Eisenhower's hatred for it, the Eisenhower tree became a staple annually at the first Major Championship of each season. When players teed it up on the 17th hole, the large tree stared them right in their faces up the left-hand side of the fairway.
Augusta National is a golf course that is rich in tradition and history, with the Eisenhower Tree a perfect example.
Pictures released of the tree showed major damage. Augusta National Chairman Billy Payne said that they had specialists come in to look at the damage to see if the tree could be saved. It was determined that it could not be, and was removed from the grounds over the weekend.
When The Masters comes around in April, you can bet that players will take a more aggressive line up the left to cut off yardage that once was not possible thanks to the tree. It's not yet known if Augusta National will change the shape of the hole or re-plant another tree. If they do not, the hole might be a lot easier to hit the fairway. Players knew that anything left would be blocked out by the Eisenhower tree requiring a big right-to-left shot that made holding the green extremely difficult.
Another aspect of the hole is the fact that it is the second-to-last on the golf course. As such, players coming down the stretch on Sunday knew that they had to be precise off the tee on the 17th.
While the fairway won't be any wider, it sure will seem that way. In additional remarks, Payne said that he and the rest of Augusta National will try to do something to honor the area. Fans and players alike will be paying attention to what happens.
The Masters is less than two months away, and the ice storms that have come through the Georgia area have certainly had an effect on the upcoming spring season. Augusta National is known for it's bright flowers at the start of spring.
Those in the field at this year's Masters will be making trips to the grounds over the coming weeks to get their first look at it.