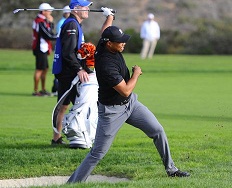 The news that Tiger Woods withdrew from the 2014 Arnold Palmer Invitational shouldn't be particularly concerning for fans of the No.1 ranked golfer in the world.
Woods has won the Arnold Palmer Invitational eight times in his career, and with a ninth would break the all-time record for most wins at a single event by any player in history. Woods loves playing at Bay Hill, probably almost as much as he loves playing at Augusta.
That love for playing in the Masters could be the underlying theme here. With the 2014 Masters less than a month away, Woods and his team probably knew that the only way his back has a chance of being 100 percent for the first Major Championship of the year was to take an extended break and focus on resting.
Woods probably needed some tough convincing to withdraw this week on the advice of his doctors and surrounding cast. If anything, Woods has been stubborn and hard-headed in the past when it comes to injuries. He has routinely played at less than 100 percent and has probably missed more time because of it.
The fact that Woods is 48 and his window of consistently contending for Majors is dwindling likely played a factor here. Woods is not a fast healer like he might have been 10 years ago. The fact is that his body is quite a bit different. While Woods remains in fantastic shape, he is approaching 40 and the body reacts to events differently.
While we might not get a chance to see Woods in action at Bay Hill this week, we all would much rather see him 100 percent at the Masters the second week in April.
Woods remains at 14 Major Championship victories, with the last coming in 2008 at the U.S. Open. If Woods does not win the Masters, it will be a full six years since that U.S. Open victory that Woods will have last won a Major Championship. That seems almost impossible considering how he has been in contention over these last six years, only to fail to produce.
The way that the slate of Majors sets up in 2014 though is very appealing for him. Woods has Major wins on three of the four courses, with the only one he hasn't won on being Pinehurst for the U.S. Open. In 2005, the last time that U.S. Open was held at Pinehurst, Woods finished second to Michael Campbell.
At the very least, Woods has to be confident that he has had plenty of success on the Major Championship venues for this season.