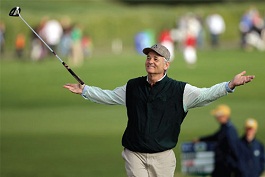 The AT&T Pebble Beach Pro Am is one of the fun events on the PGA Tour, and it gets going this Thursday. Looking down the list of notable names of celebrities that will be on hand competing, many of the typical players on in there.
It's not often that we get to see some of our favorite movie stars, television actors and athletes doing things outside of their profession. But one thing that they all have in common is a passion for golf. This week at Pebble Beach they get the chance to play in competition in front of PGA Tour crowds at one of the greatest venues in all of golf.
The AT&T Pebble Beach Pro Am doesn't get the full respect that it should. Perhaps it's because they play it very early in the new year. But this is one of the most important events of the season in my opinion.
It's at an important time in the schedule as well. Last week for the Waste Management Phoenix Open there were the largest crowds in golf. This is nothing unusual as TPC Scottsdale routinely produces this. But now the PGA Tour goes back to California and brings in a very unique format.
Every golf tournament during the season has a Pro Am. But this one is special because it lasts the four days of the tournament + the notable amateurs.
One of my favorite things to watch are the athletes that compete. Being a sports fan it's fun to see them try their hand at golf, a sport that is very difficult to master. These athletes are some of the best at what they don, but can look silly on the golf course. In some respects, it humanizes them. Fans are able to relate to the struggles and successes that the amateurs go through during the week.
There are plenty of shots that we see Thursday-Sunday that we have done (whether good or bad). One thing's for sure, and that's that we see plenty more bogeys made than any other tournament.
The list of competitors from other sports this year include some great names. Many of them have played here before. In fact, some of them are very good. Tony Romo is the first name that comes to mind. He is a scratch golfer that has tried qualifying for the U.S. Open on several occasions. Romo is routinely in the mix for the low amateur at these types of events.
Outside of Romo, names like Wayne Gretzky, Tom Brady, James Blake, Matt Cain, Aaron Rodgers, Kelly Slater, and Alex Smith will be on hand.
And then there are the celebrities from the other side with films, television and other walks of life. Names like Don Cheadle, Andy Garcia, Ray Romano, and Kid Rock.
This looks like it could be one of the best group of celebrities yet!