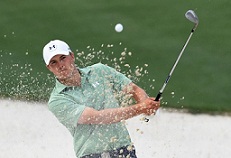 Those in the golf arena knew who Jordan Spieth was before the 2014 Masters.
Now, the rest of the world does.
Spieth, who finished runner-up to Bubba Watson a few days ago, will be a headliner in whatever tournament he plays in for about the next year at least. And if he continues to have more success, he could be the next big thing in golf in America.
At the start of the front-nine on Sunday, it looked like Spieth could be the one wearing the green jacket at the end of the day. But a four-shot swing in two holes to close out the front nine shut the door on that.
Still, Spieth gained a lot of followers on Sunday. He is only 20 years old, has a win on the PGA Tour at 19 years old, and played in the Presidents Cup last year. Going forward for the marquee events like the PLAYERS Championship, U.S. Open, and the other two Majors, Spieth will be a favorite to win.
The biggest question will be how Spieth responds to the disappointment of losing the Masters. He won't get much time to dwell on it, as he teed it up this week in South Carolina at the RBC Heritage. Spieth is paired with 2014 Ryder Cup Captain Tom Watson, matching the Youngest player and oldest player in the field.
Spieth has all the makings of being a superstar. He doesn't hit the ball very far, but he is polished. Of course, any player on tour could look like a short hitter compared to teeing off with Bubba Watson. There were times where Spieth was 50-70 yards behind the now two-time Masters Champion.
And Spieth finishing second isn't the only big story as far as how they respond. There is plenty on Bubba Watson. The last time he won the Masters he went into a virtual slump. He finally won again two months ago in California, his first since the Masters win in 2012. Watson admitted that he is more prepared to play other tournaments as a Masters winner, and we can look forward to him contending in the Majors.
Don't be surprised to see Spieth and Watson in contention for the U.S. Open, British Open, and the PGA Championship.
If Spieth performs well, he can help golf fans through the absence of Tiger Woods, whose return to golf following back surgery is still to be determined.