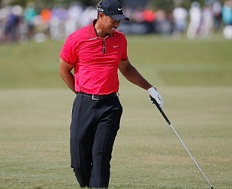 It's clear that the last two tournaments Tiger Woods has entered he has not been 100 percent healthy. In fact, one resulted in a withdrawal during the final round, and the other resulted in a final round 78. Actually, had it not been for Woods' withdrawing at the Honda Classic, he might have withdrawn at the Cadillac Championship for the second-straight week in the final round. But instead he gritted it out to finish the tournament.
Woods will get a week off in between the Cadillac Championship and the Arnold Palmer Invitational, not playing at Innisbrook in Palm Harbor or the Valspar Championship this week.
The No.1 ranked player in the world plans on competing in the Arnold Palmer Invitational, with the next stop after that being the second week in April at Augusta for the Masters.
The goal is of course being healthy for the Masters. But at the same time, it's important to be sharp going into the first Major Championship of the year as well. There is a fine line and Woods will have to make some decisions coming up about his back and his time on the golf course.
Woods receives daily treatment on his back, and will continue to receive it up until the start of Bay Hill and probably through that event. He is the defending champion at the Arnold Palmer Invitational, on a golf course that he loves. He definitely wants to play in it if he can, but he loves the Masters more.
This has been arguably the worst start to a season in his career, coming off of 2013 in which he had the best start. That resulted in zero Major wins though.
The start of 2014 has definitely been on plagued by injuries and difficulty getting through four rounds of golf. In that respect, it's very difficult to classify this season so far as a disappointment for Woods based on his play alone. It's been disappointing, but there are other reasons for that. We saw him put together the low round of the tournament on Saturday at the Cadillac Championship to play his way into the second-to-last pairing on Sunday. He had no back issues until the fourth round where it was noticeable that he was moving gingerly.
Only time will tell as far as to the condition of Woods and his back. At 38, he is no spring chicken but he we can expect him to be back soon so long as he let's the injury heal.