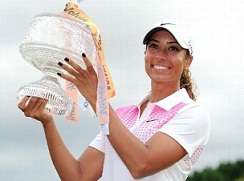 We've grown accustom to hearing the name Woods atop the world of golf. But for the first time there is another Woods that has won a professional tournament. Cheyenne Woods, the niece of No.1 ranked player in the world Tiger Woods, captured the Australian Ladies Masters over the weekend.
Woods, just 23 years old, carded a 4-under par round of 69 on Sunday at Royal Pines to win by two shots over Minjee Lee.
It was certainly an impressive performance. This was the first professional win for Woods. She turned professional back in 2012 after completing a fantastic career at Wake Forest University. This is certainly not the first time that Woods has been in the spotlight. Since it was learned several years ago that she was the niece of Tiger Woods, there has been plenty written about her.
Woods is a few professional wins shy of getting to her uncle. But of course you have to start somewhere.
The win was not an LPGA Tour event, but it was a victory on the Ladies European Tour. As a result of the win, Woods pockets $51,000 and a two-year exemption on the Ladies European Tour. Perhaps the ladder of the two is the bigger prize. Woods will be able to relax and focus on her game and not have to worry about tournaments to play.
More than that though, Woods gets the chance to prove to the world that she can win. She has made a name for herself as a winner, and is not simply the niece of Tiger Woods. Woods will stay in Australia for the LPGA Tour's Women's Australian Open in Victoria this upcoming week.
The top players in women's professional golf will be on hand. This will give Woods a chance to continue to build off of the momentum of getting the win.
Woods has yet to secure a Tour Card for the LPGA. She did not make it through qualifying school back in December. The victory on Sunday though might be the best thing to happen to her and could really propel her career going forward. Having the belief that you can tee it up and win a tournament after having done so before will pay dividends for the remainder of her career.
The rest of woods schedule this season has not been determined. With her exemption on the Ladies European Tour, we can expect her to be spending plenty of more time in Europe playing in any event that she can.
As for the LPGA Tour events, she will continue to try and qualify or receive a sponsor's exemption into a field.