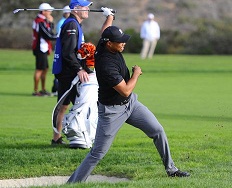 Many thought that Tiger Woods would come out and win the 2014 Farmers Insurance Open this past week. After all, he had won the event seven times before + Torrey Pines is a golf course that he loves to play.
After the first couple of rounds Woods was right around the cut line, needing a low third round to shoot back up into the conversation.
The opposite happened.
Woods needed an eight-foot putt on the 18th hole Saturday to stay-off an 80. That's right, Woods carded a 79 during the third round. What's more, is that Woods missed the secondary cut on the PGA Tour. A secondary cut is a cut made at the 54-hole mark when there are more than 78 players playing on the weekend. Those players still get paid for making a 36-hole cut, but do not get the chance to compete on Sunday.
Now of course the questions center on Tiger and his upcoming events. Woods was rather positive on his performance though. Rather than categorizing it as catastrophic with the big number 79, he merely said he was a fraction off. On a golf course like Torrey Pines' South layout that can easily turn a 69 into a 79. But it is rather concerning considering the success the No.1 ranked player in the world has had.
I say let's cut him some slack for this one. It's one event. And not just that, it's the first event he's played in 2014.
If Woods puts up some more mid-70s rounds through February and March on into the Bay Hill, then around that time we can begin to seriously question what in the world is going on. But until that point comes, let's just sit back and watch him get his year underway.
We probably won't see Woods until the Accenture Match Play Championship, so that is not even a stroke play round. His next stroke play event will likely come at the Honda Classic near his home in Florida to open up the Florida Swing.
Another player who had difficulties this week was Phil Mickelson. Lefty admitted he had back pain during the tournament and had to get several treatments. This is the first time in his career that Mickelson has undergone back treatments. However, he is no stranger to playing in pain with the arthritis in his joints.
Woods and Mickelson aren't getting any younger that's for sure. But still I think we can expect these two to have some good years in 2014.