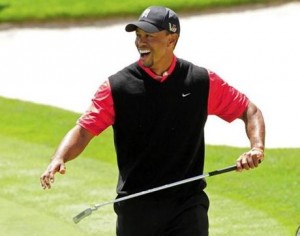 We've still got a bit of time until the 2014 portion of the new PGA Tour season gets underway. For this purpose, the focus will be on the No.1 player in the world Tiger Woods, and making a couple of predictions on where the direction of his season might go.
Let's begin at the end, where Woods left off to close out last season. After taking the lead in the FedEx Cup Standings at the start of the playoffs, it was Henrik Stenson who captured the season-long championship. It was Woods however who won the 2013 PGA Tour Player of the Year. Woods won five times in 2013, including a World Golf Championships event. What was absent from the slew of victories was a Major Championship.
For those keeping count, it will be roughly six year in between Major victories by the time the 2014 Masters rolls around in April. That 2008 U.S. Open victory seems like a lifetime ago.
Woods turns 38 on Monday, December 30th, and has many years remaining in his career to play at the highest level. Look at Phil Mickelson who will be 44 in 2014. He just captured his first British Open title back in July. And Woods is an athletic freak, albeit has not been without significant injuries to deal with. If he stays healthy, there will still be at least five years of Woods being the Major Championship favorite.
But what about in 2014? Will Woods get it done?
Of the four Major Championship venues upcoming, Woods has won Majors on three of them. The Masters of course we know at Augusta, but the British Open at Hoylake (2006) and the PGA Championship at Valhalla (2000) all represent places Woods has won.
Also, the U.S. Open is being held at Pinehurst, where Woods finished second the last time it was held there in 2005.
The crop of courses for the Majors appears to be favorable for Woods, on top of the venues that he will play on the normal circuit for which he's had plenty of recent success.
Though the fast starts each of the last two seasons have not been Major predictors, obviously. Woods will probably make his 2014 appearance at Torrey Pines for the Farmers Insurance Open. From there, we can probably expect him to play in events like the WGC Accenture Match Play, and then the Honda Classic near his home in Florida.
Major Championships aside, Woods had one of his best seasons in recent years in 2013. He played a couple of tournaments in the fall overseas, but has been off for close to two months now.
So how do we think that Woods will perform in 2014?
PGABettingOdds.com predicts that Woods will have more wins in 2014 than he did in 2013. The number of overall wins is 6, which will include one Major Championship. It's hard to assess where the Major win will come, but his impressive run at Hoylake in 2006 was magnificent to watch. With his comfort off the tee in using only irons on that layout, the British Open might be his best shot to win.