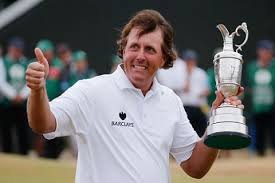 Phil Mickelson won the tournament that no one (even himself) thought he could win, in 2013. Lefty's victory at the British Open was huge on several levels. First, it took away the pain of losing the U.S. Open and recording a sixth runner-up finish at the event. Second, it brought Mickelson back to the forefront of the conversation as a champion rather than bridesmaid in Majors.
The 2013 PGA Tour season was a strong one for Mickelson. He won just two times (three less than Tiger), but the victories were significant. Heading into 2014 Mickelson appears ready to contend for Majors once again.
Of course, when looking at the Major Championship schedule and course lineup for 2014, there is one that sticks out like a sore thumb.
The U.S. Open at Pinehurst.
Golf fans won't soon forget the 1999 U.S. Open battle between Mickelson and Payne Stewart when Stewart knocked in a 15-foot putt in the 72nd hole to win. Of course, the irony of the situation is that Mickelson's wife was pregnant at the time with their first child who was born the very next day when a U.S. Open playoff would have been held. Then, months later following the win, Stewart was killed in a plane crash that rocked the golf world.
The 2014 U.S. Open will be the 15th anniversary of that day, and you have to think that Mickelson has that event circled on his calendar. The U.S. Open has been contested as Pinehurst since the 1999 tournament (2005), but this one will certainly bring back memories.
Outside of the U.S. Open, Mickelson can add to his Major and Masters total (3) with a win at Augusta in April. Always a contender at Augusta, Mickelson will be a top favorite to win the first Major championship of the season.
He will be the defending champion at the British Open in July from Hoylake. Tiger Woods won the Open Championship the last time it was held at Hoylake in 2006.
Mickelson's success has often been determined by the start to his season. He plays in several events in the beginning of the season on the West Coast Swing. His play in California + Arizona will be important to get off to a good start to the season. He managed to win in Phoenix last year in February which set a solid early tone.
Lefty will begin 2014 as the No.3 ranked player on the World Golf Rankings behind only Woods and Adam Scott. Of all his achievements, Mickelson has never been the No.1 ranked player in the world. He will have to play well in 2014 to get that, but with his level of talent it's certainly not out of his reach.