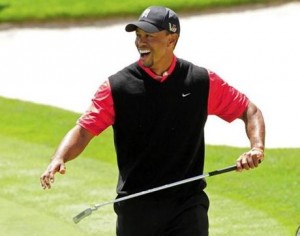 At one point over the last 29 months, Tiger Woods fell all the way down outside of the top-50 in the World Golf Rankings. But on Monday, after his eighth win at the Arnold Palmer Invitational, Woods regained the top spot for the first time in more than two years.
Woods has now won three of his five total starts in 2013, and will next play at the Masters in the second week of April.
After watching most of the rounds that Woods has played this season, it's easy to say that he is playing well. But as well as he has ever played could be a stretch. But then you take a look at what he has done this season, and the performances he has put up.
At Doral for the WGC Cadillac Championship, Woods put together the lowest putting total ever in his career. And for a guy known to be a fantastic putter, to have just 100 total putts over four rounds, that certainly is a testament to his ability to work more on his short game after going through the swing changes.
Woods has won at Torrey Pines, Doral, and now Bay Hill in 2013, three places that he has dominated throughout his career. But this is the first time that he has won at all three places in the same year.
Obviously the focus of the No.1 ranked player in the world will be on the Masters coming up. Of course, with Rory McIlroy playing in Houston this week, he can reclaim that top spot with a win. In fact, if McIlroy starts to play better this year, it could be a very exciting back and forth between the top-two positions in the world golf rankings.
With Woods tapping in the winning putt at Bay Hill, there was a sense of balance in the force, to use a nice Star Wars reference. All seemed back to normal, with the climb back to No.1 in the world. It's had been over two years, but it all seemed off during that two-year stretch.
But to say that the Masters is already in the bag this year is far from a given. Sure, he has a great track record there of being in contention even in his off years, but there is a big difference between contending, and donning the green jacket. The fact of the matter is that Woods has not won the Masters since 2005, and not won a Major since 2008.
But the timing feels right that he might just get over that hump and get Major No..15, as he is playing about as well as he has since 2008 prior to his knee surgery. Woods even said himself that the biggest key has been the fact that he has been healthy. It has allowed him to practice the hours he wants, and to do the things he needs to do to get better.
This is all adding up to a fifth Green Jacket in a few weeks.