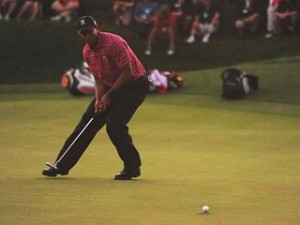 Tiger Woods has certainly dominated his fair share of venues in his career, and none more so than when he goes to Bay Hill.
The PGA Tour rolls through Orlando this week for the Arnold Palmer Invitational, where woods is a seven-time winner and the defending champion. Though unlike last year when he came in searching for his first victory in more than two years, Woods has won four times since that victory last year.
Two of those wins have come early in this season, back at Torrey Pines in the end of January, and the WGC Cadillac Championship two weeks ago.
This will be the final tournament Woods plays in until his trip to Augusta National for the 2013 Masters. He certainly would like nothing less than to come into the Masters off of his third win on the season.
Looking at it from a glance, there is no reason why he shouldn't be able to.
Flashback a year ago, and Woods was still trying to put his swing together. He was coming around, but some things were still lacking. Then he came to Bay Hill for the Arnold Palmer Invitational, and things looked like they were clicking. All he needed was a venue that he had historically dominated, and he began to put things back together.
As we come into this week, it's almost the exact opposite. His swing is looking great, which has allotted him more time on the practice green. As a result, Woods put together his best putting tournament ever when he won at Doral two weeks ago.
It's not wonder that he is a huge favorite to win this week.
We have been crunching the numbers, and doing the math on the tournament this week. And we still have yet to come up with any logical reason as to why Woods will not win for the eighth time at Bay Hill, and once again walk off the green on Sunday evening up to the top of the hill to shake Mr. Arnold Palmer's hand, and get the plaid jacket.
They should know his size by heart now without having to ask, or look it up.