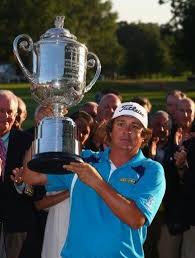 The four Major Championships for the 2013 PGA Tour season are in the books, and for the fifth-straight year none of the winners include Tiger Woods.
Woods came in with high hopes to the PGA Championship at Oak Hill this past week, fresh off of dominating the WGC Bridgestone Invitational the week before that included a round of 61 on Friday. None of that momentum carried over into the PGA Championship though, as the No.1 ranked player in the world was never a factor.
Jason Dufner won his first Major Championship, just two years after losing in a playoff at this very same tournament to Keegan Bradley in Atlanta. Dufner tied a Major record with a round of 63 on Friday to give him the lead going into the weekend. He lost that 36-hole lead to Jim Furyk heading into Sunday's final round, but carded a two-under round of 68 to win by two shots over Furyk.
Thus, ended the Major Championships.
It all started back in April with Adam Scott getting his first Major win at the Masters. From there, another well-known player got his first Major win, when Justin Rose claimed the U.S. Open.
Phil Mickelson got his sixth runner-up finish at the U.S. Open, but his anguish lasted only until the final putt dropped for him at the British Open, with Lefty winning his first Claret Jug of his career.
And then came Dufner, a journeyman who won his first PGA Tour event a season ago, and turned that into a couple of wins in a breakout 2012. We knew it wouldn't be long until he was back in the mix late on a Sunday, and this time he got the job done.
Overall, the 2013 crop of Majors produced some big winners and plenty of excitement, two of the most important factors fans want. There were no long shots who came from nowhere to make a Major their first win of their career, not in the slightest.
But yet again we were left without Woods winning a Major championship, which will now stretch into the 2014 Masters.
There were some close calls with Woods, who was in the mix in all three Majors with the exception of the PGA Championship. In fact, had Woods not hit the flagstick on No.15 at the Masters on Friday, where he then received a penalty stroke for an improper drop, it's possible that this conversation might not be happening at all and Woods could have won his fifth Masters and 15th overall Major title. But that's golf, and it was Scott's time to end the career-long Major frustration.
What will the 2014 Majors produce? Only eight months to go!