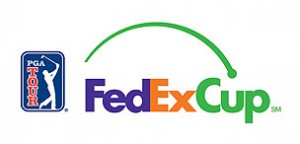 Patrick Reed won the Wyndham Championship on Sunday and jumped from No.78 to No.22 in the FedEx Cup rankings. His win couldn't have come at a better time, with the start of the FedEx Cup playoffs getting underway this week with The Barclays.
Reed's jump up the ladder by more than 50 spots would put him into the Tour Championship if the standings were to end today. But of course, things are just about to heat up with the number of points on the line for a FedEx Cup playoff win increasing tenfold.
Looking at the standings heading into the first playoff event, it's Tiger Woods who is atop the FedEx Cup rankings with 3,059 points. Woods has won five times this season in just 12 events. He has seven top-10 finishes. Woods won five out of eight non-Major events he played in, but of course the storyline was the 0-for-4 at the Major Championships. He played in significantly fewer events than the majority of the PGA Tour, with Henrik Stenson the next-closest at just 14 events. Steve Stricker (No.20) was only playing the Tour part-time this season, with 10 events.
Woods has three more wins than any other player on the PGA Tour in 2013. Those players with two wins on the season, for which there are three, all fall in line No.2-No.4 behind Woods on the FedEx Cup rankings.
That would be Matt Kuchar, Brandt Snedeker, and Phil Mickelson.
Kuchar and Snedeker both played in 19 events and won twice. It's actually Snedeker that edges Kuchar out in the number of top-10s at eight to seven, but Kuchar has the slight edge in point at 2,293 to Snedeker's 2,218.
Mickelson made his big jump with the win at the British Open, and has 2,166 points at No.4 in the standings.
The fifth player in the rankings is more than 600 points behind Mickelson. That would be Bill Haas, who has 1,505 points.
The highest-ranked player on the standings without a win is Stenson at No.9. Stenson had a couple of runner-up finishes that gave him a lot of points, including the British Open and a World Golf Championships event in back-to-back weeks. Stenson has six top-10 finishes in 14 events on the PGA Tour this season.
Of course, the points increase dramatically with the playoff events, with the winner getting 2,500 points instead of the normal 500 points.
It starts with The Barclay's and the top-125 on the FedEx rankings, dwindling down each week, with the Deutsche Bank Championship, the BMW Championship, and finally the Tour Championship in the back half of September.
Get ready for some exciting golf action!