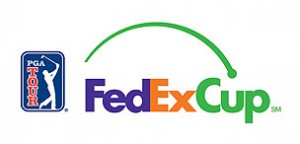 There are just two events remaining until the start of the 2013 FedEx Cup playoffs. It just so happens that two huge events stand between now and those playoffs, which could affect the standings quite a bit.
The WGC Bridgestone Invitational gets going on Thursday while next week the PGA Championship gets underway from Oak Hill. With the top players in the world participating in both, there is the potential for plenty of movement.
As it stands, Tiger Woods holds onto the lead in the FedEx Cup rankings, though that margin has gotten slimmer over the past few weeks with Phil Mickelson's British Open win, an Brandt Snedeker's win at the RBC Canadian Open.
Woods is on top with 2,481 points, which includes four wins. But Woods has also played in just 10 events, which is much fewer than most of the other top players in the world.
Take for example No.2 on the points standings Matt Kuchar. With 2,203 points and just two wins, Kuchar is just 278 points behind Woods for No.1. But Kuchar has played in 17 events which has made up for the lack of two wins compared to Woods.
Snedeker has two wins as well, and jumped back up to No.3 with his win last week in Canada. he is just 303 points back of Woods. Snedeker has played in 16 events this year, and secured eight top-10 finishes. That is 50 percent of his events in the top-10, which racks up those FedEx Cup points. woods has six top-10 finishes in his 10 events, which is 60 percent on the year.
Snedeker is actually tied for the most top-10 finishes on the PGA Tour this year, along with Bill Haas. He is also defending his FedEx Cup title better than anyone prior,and is well on pace to make the Tour Championship at the end of the season, a feat that no previous champion from the year before has done.
Mickelson jumped up to No.4 on the FedEx Cup standings with his British Open win, and is over 2,000 points now. There is a big separation on the points between the top-four players and the rest of the field. In fact, the difference between Mickelson at No.4 and Billy Horschel at No.5 is roughly 700 points.
There 550 points to the winner of the WGC events on the line this week, and 600 for the PGA Championship next week. Both events garner more points than a standard PGA Tour event, so plenty of points will be on the line.
We will take another look at the standings prior to the Barclays.