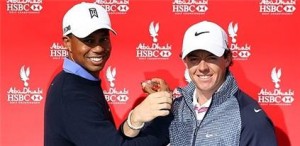 Tiger Woods and Rory McIlroy have been linked together for years, with McIlroy the new young superstar on the golf scene. The duo has even more in common now though, with McIlroy joining the Nike Golf family this week for an undisclosed amount.
Woods and McIlroy enter the 2013 season as the top-ranked players in the game. It's McIlroy who has the edge as the No.1 ranked player in the world for now.
Not only are the two players now playing for Nike Golf, but they will also be paired together for the first two rounds at the HSBC Championship in Abu Dhabi beginning on Thursday. Martin Kaymer will be the third member of this grouping.
A prediction: there will be a few people following this grouping.
This is the first time that either will tee it up in a tournament for 2013. Woods is set to make his 2013 PGA Tour debut in a couple of weeks at the Farmer's Insurance Open, but the HSBC Championship is his 2013 debut overall.
For those who are interested in watching, this should be a fun pairing for the first two days of play, and you can bet all of the eyes will be focused on the one who brought Nike Golf to where it is, and the one who Nike hopes will continue to carry that for the next several decades.
Wood and McIlroy have been paired together before, including in the HSBC Championship, so this is nothing new.
There and plenty of other notables in the field as well, including names like Ernie Els, Justin Rose, and Padraig Harrington.
McIlroy is the pick to win the HSBC Championship according to oddsmakers, though Woods isn't very far behind. Coverage of this event can be seen all week long on the Golf Channel.
Group Odds
And, there are some 2 and 3 ball lines for the two to consider. In the first round, Rory is a -110 favorite vs. +120 for Woods to claim the low score of the round. If the two tie, the "tie" option comes into play at +800.
Also at Bovada, and since Martin Kaymer is in their grouping too, you can pick between the low man of the three in the group. As it stands, McIlroy has +140 odds, Woods has +175 odds, while Kaymer comes in at +220. A tie for the low score of the group results in all wagers being refunded.