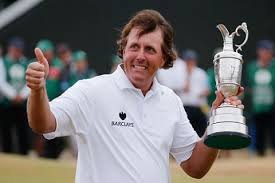 The ultimate measure of a golfer at the end of their careers are the performances in the Major Championships. But even within that, what can separate the great golfers from the greatest golfers of all-time are the well-rounded performances in Major Championships. In other words, not just how many Majors a player won, but of how many of the four Major Championships did they capture a victory.
For Phil Mickelson, he might have gotten the defining win of his career on Sunday afternoon at Muirfield in Scotland, winning the 2013 British Open. This is the fifth Major win of Mickelson's career, and the third different Major he has won. And by all accounts, even his, it seemed destined to be the last, if at all.
It looked like Mickelson was going to win the U.S. Open at Merion last month. But that didn't come through, which was the sixth runner-up finish of his career at the U.S Open. That is a crazy stat in and of itself. In all those times, all the rounds he was in contention, to not once come through is rather mind blowing. It's the tournament Mickelson probably wants the most, but even if he were to win a future U.S. Open it might not be more fulfilling than his victory at the Open Championship.
In other words not many people, including Mickelson himself, ever thought he would be hold the Claret Jug at the end of Sunday at a British Open as the champion.
But that has now been put to rest, as Mickelson's spot in the history of golf continues to grow. And with him playing some of the best golf of his career, he will have plenty of more chances to try and fill out that career slam, beginning with Pinehurst in 2014, the site of one of his six runner up finishes.
Even before that though will be the 2013 PGA Championship from Oak Hill next month, and then of course Augusta, where he has won three times.
Mickelson is now just one Major win from tying nick Faldo and Lee Trevino on the all-time list, and two away from names like Harry Vardon, Bobby Jones, Arnold Palmer, and Sam Snead. The win also put him in a tie with Byron Nelson and Seve Ballesteros, among others.
Lefty might rank in a tie for 14th all-time on the Majors wins list, but he may very well rank No.1 in popularity when it's all said and done, in terms of a fan favorite. Tiger Woods might be in a league of his own in terms of how popular he has made golf and the fans following him, but the people's favorite appears to be Mickelson. Like Palmer, Mickelson has the backing of the crowd, and seems to relish the spotlight by interacting with the fans. It's something that is neat to watch, and makes him fun to pull for.