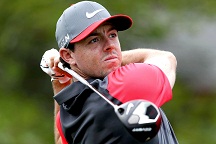 Rory McIlroy is three-fourths of the way to the career Slam at age 25, with four total Major victories to his trophy case. The Major Championship that has eluded the No.1 player in the world up to this point has been the first of the season.
The green jacket.
What's a bit ironic is that McIlroy had the opportunity to make the Masters his first Major title in his career back in 2011. He had a big lead through 54 holes and was the leader after each of the first three rounds.
Through 63 holes, McIlroy still possessed the lead, albeit it was a bit touch-and-go through the first nine holes on Sunday. But the saying that the Masters doesn't really begin until the back-nine on Sunday was never more evident than it was on that spring afternoon in Augusta, Georgia.
McIlroy eventually lost the lead, and never recovered. But what was perhaps most impressive is that he won a Major in his very next opportunity at the U.S. Open a few months later.
In the three Masters since, McIlroy has put himself in good positions, but has not been able to close out the deal.
Coming into 2015 PGA Tour schedule, McIlroy has won back-to-back Major Championships, with his first Open Championship victory and a second PGA Championship to close out his 2014 season. In theory, McIlroy could own all four Majors at one time if he were to win the Masters and the U.S. Open and effectively coin his own 'Rory Slam', similar to Tiger's carry over from the 2000-01 season in which he won the Masters to complete four-straight.