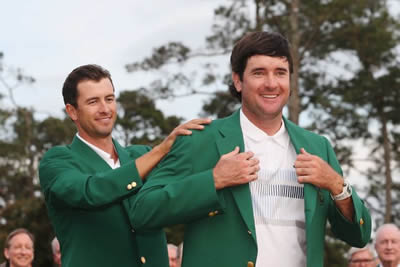 It's hard to believe, but the Masters are once again right around the corner.  In less than two weeks, all the superstars from the golf community will gather on the fairways to begin the first major of the season, the event that really gets the PGA tour rolling with a full head of steam.
The tournament itself is sure to unfold and offer high octane drama, seeing the green jacket just seems to bring that out in golfers, but there will also be several storylines going on behind the scenes.  One of the best features famed golfer Bubba Watson, who might be feeling just a little snubbed.  Despite winning two of the last three Masters tournaments, (Bubba walked away with last year's title as well as one in 2012) he finds himself looking up at some of the competition, at least according to the best online sportsbooks for USA players.
Despite Watson's success on the big stage, it's difficult to argue against Rory McIlroy who feels poised for the kind of special run that defines careers and is the current favorite to win the tournament with odds of 11/2 (+550).  Watson trails both McIlroy and Jordan Spieth (9/1) with odds of 10/1.
Still, it could be argued that being the underdog tend to work out well for Watson.  When he won the 2014 Masters, even coming off his success in 2012, he was given odds of 25/1 leading right up until the tournament.  Those who took advantage of the many opportunities to legally bet on sports during last year's Masters and were lucky enough to levy a bet on Watson took home a whopping $250 profit for every $10 wagered.
This was even more extreme when Watson announced his presence in the golfing world with a miraculous win in overtime to take the 2012 Masters.  If any bettors saw enough potential there to place a bet in Watson's favor for his first win at a Major tournament when he was listed at 40/1 odds in the day leading up to tee off, they were rewarded with a massive payout, offering up $400 for every $10 bet.
Considering his history, it may not be wise to count Watson out entirely, even if he will be facing a red hot Rory McIlroy.  Watson always seems to be at his best when it counts most, which is a valuable trait in a golfer who is seeking to eke out fourth win at the Masters in only three years.  Such an achievement this year would hoist Bubba onto the backs of golf legends, and maybe turn the narrative of the 2015 season around from what was supposed to be the year Rory McIlroy further distanced himself from the pack.
Watson may not have the same pedigree as McIlroy when it comes to pure golf skill and upbringing, but as he stares down the prospect of a third green jacket, he must be thinking to himself, "Hey, why not me?"
Future Odds To Win 2015 Masters – Click Here To See Live Odds Week of the Event