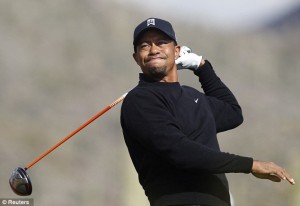 For those of you who like the upsets in the NCAA basketball tournament in March and April, you would have liked what went on during the opening round at the Accenture Match play tournament.
A No.16 has never defeated a No.1 seed in the NCAA tournament, but that certainly cannot be said for this event on the PGA Tour.
There is certainly a history with No.1 seeds losing in the opening round matches at Dove Mountain, and that theme continued in 2013, as the top-two seeds in Rory McIlroy and Tiger Woods lost their first match and were sent home early by a couple of No.16 seeds.
Of course, the Accenture Match Play is a bit different than the NCAA Tournament where upsets are far more likely. You have the top-64 players in the entire world on the stage here. Every player in the field is accomplished, and on any given day it doesn't take much to up-end a top-seed.
It was a day filled with upset at the Accenture Match play though ,which saw No.1 seeds, No.2 seeds and several No.3 seeds go down.
Frankly anyone who had their bracket filled out completely correct after the first round was more likely to use a dart board to make their picks versus common sense. Logically, many of these upsets shouldn't happen.
But then again, golf isn't very logical.
You saw a bunch of favorites exit early, but there is still certainly some all-world talent left in the field.
It is unfortunate that we don't get to see Wood and McIlroy play more this week, and it might be a testament to why we don't see more match play event scheduled on the PGA Tour during the year. The fact of the matter is that Woods and McIlroy are why many fans tune into watch the tournaments every week, and with them out of the tournament after Day 1, you will probably see a dip in the ratings.
For us avid golf fan though, that is no deterrent, as this is one of the great events on the PGA Tour every year, and we will get to see plenty of great golf going forward. It will be interesting to see who survives the long days ahead to make up for the weather delays we've had so far.