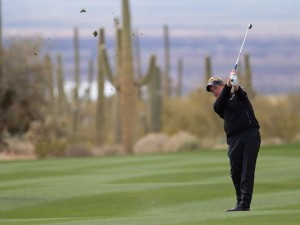 The players in the field for the 2013 Accenture Match Play tournament this week out at Dove Mountain Golf Resort in Marana, Arizona will have another opponent to deal with outside of their playing partner for the first few days, especially through the first round.
Mother Nature.
Frigid conditions are expected to creep in for the opening round at Dove Mountain, as 64 of the best players in the world begin the first World Golf Championships event of the 2013 season. That cold air is supposed to linger around for a few days as well.
Of course, leading up to the start of the first round on Monday and Tuesday you wouldn't have known that the rest of the week was going to be difficult. It was beautiful on both of the practice rounds days, and now players were thrown a major curveball.
How cold is it expected to be throughout Wednesday and on into Thursday?
There is a possibility for snow.
Let that sink in for a minute.
With highs not expected to leave the 40s and even dip down into the 30s with winds in excess of 20-30 mph, you have to think that the elements outside of the one-on-one match play format has the potential to play a significant factor for those who let it.
One of the nice things about the match play format though is that there is no side of the draw that could get the better end of the deal, as you could see with other a stroke play tournament. Players will face the same conditions as their playing partner, so there is no advantage over the other.
That being said though, players will have to deal with very difficult conditions throughout Wednesday and on into Thursday.
Half of the field will be eliminated today, as there will be only 32 players surviving the elements to move on to the seconds round on Thursday.
Difficult conditions out on the golf course makes for a fun watch for those of us who will be in the comfort of our own homes though. The Accenture Match Play will almost have a British Open feel to it for the first few rounds, though with the scenery slightly different with the desert sand and cactuses surrounding the fairways.
Golf Channel will be on the coverage of the first round on Wednesday beginning at Noon ET, and will continue with coverage all week until NBC picks things up on the weekend.