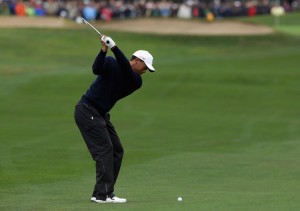 It's a familiar feeling on the PGA Tour right now. Tiger Woods is at the top of the leaderboard chasing yet another victory. But it's not simply the fact that Woods is at the top of the lead, it's the fact that he is dominating the field at Torrey Pines for the Farmers Insurance Open.
One week ago, Woods missed the cut at the HSBC Championship, leaving many to wonder what type of game he would bring into 2013.
Through three and a half rounds at Torrey Pines, those questions appear to have been answered.
It's a game we are used to seeing, but wondered if he would ever get back.
It's been a marathon at the 2013 Farmers Insurance Open though, with inclement weather causing play on Saturday to be washed out. That meant that Sunday was going to be a busy day for the players, as they would go out early in the morning to get the third round in, and as much of the fourth round as possible.
By the time the day was over, Woods had a six-shot lead over the rest of the field. He managed to get through seven holes of his final round, and will pick it up on Monday afternoon to complete the final 11 holes.
Wood is ahead of 2012 Farmers Open champion Brandt Snedeker by six shots, as well as Nick Watney. Last year, Snedeker won the tournament in a playoff. This year, it's not looking like a playoff will be necessary.
While there are no sure things in sports, over the years a victory by Woods when he has the 54-hole lead has been about as close as it gets, with a 92 percent winning percentage. And this time, he has a 61-hole lead, with seven holes already out of the way. The 1 to 100 odds that Woods is getting to win the Farmers Insurance Open at Bovada Sportsbook is just more evidence to support the theory that this tournament is all but over, assuming he shows up.
Likely because of the fact that Woods is in the lead, CBS did not want to give up broadcasting to Golf Channel for the Monday finish. CBS will bring live coverage of the conclusion of the Farmers Insurance Open at 2pm ET on Monday.