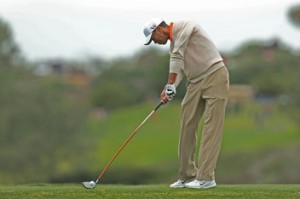 Just a week after missing the cut at the HSBC Championship, Tiger Woods came to the Farmers Insurance Open for his 2013 PGA Tour debut. It was an event Woods skipped last season, opting instead to begin at Pebble Beach. But Woods couldn't stay away from one of his favorite venues on the PGA Tour, in Torry Pines for very long.
It was a round of 4-under 68 on Thursday from the South Course. It was a round that saw Woods make everything from an eagle to a double-bogey, and everything in between.
The South course traditionally plays the tougher of the two, and in the ideal conditions on Thursday that continued to be the case.
Woods will go out on Friday afternoon on the North course, with a chance to gain some ground on the leaders.
Brandt Snedeker is tied atop the leaderboard with K.J Choi. Snedeker is the defending champion at the Farmers Insurance Open this week, winning in a playoff over Kyle Stanley a season ago.
Fond memories can often produce good results, and through 18 holes at Torrey Pines for Snedeker that was the case. Of course there is still plenty of golf to play beginnign with second round on Friday.
The weather is predicted to lay low once again, though coming into the week the weather certainly didn't look like it was going to cooperate how it did for Thursday. If the weather holds true to the calm forecast, expect there to be some low scores yielded by both course at Torrey Pines once again.
Woods is three shots back of Snedeker and Choi, both of whom shot round of 7-under 65 in the first round.
Others of note include Phil Mickelson, who had a trying day on the easier North course, managing to shoot only an even par round of 72. He will certainly have his work cut out for him on Friday to get back to within contention and place himself on the weekend.
On the day, the North course averaged about two stroked easier than did the South course. Mickelson will tackle the South course on Friday afternoon.
After the completion of the second round, both the third and fourth rounds will take place on the South Course following the 36-hole cut.