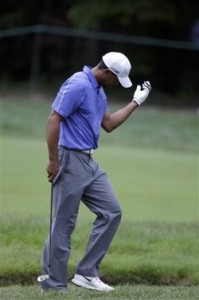 Some PGA Tour fans might be asking this week, 'where's Tiger?'
The AT&T National benefitting the Tiger Woods foundation is an annual stop on the PGA Tour at Congressional Country Club. But Woods actually won't in the field this week, due to an elbow strain he suffered a few weeks back, and aggravated again in the U.S. Open. Woods is typically in the field, but his absence will be noticeable and disappointing.
We won't see Woods compete until the 2013 British Open from Muirfield beginning on July 18th. That means that it will be roughly a month in between starts for the No.1 ranked player in the world, and back-to-back majors. That is of course unless he opts to change up his schedule to get a tournament in within these next couple of weeks, though unlikely.
The AT&T National also suffered another big loss, when Justin Rose announced that he was withdrawing. Rose won the U.S. Open a couple of weeks ago, and played again this past week in the Travelers Championship, finishing in the top-15. But the mental and physical strains that come along with winning a Major championship were weighing on Rose a bit, and he needed to take the week off to recharge the battery.
While Rose left the grounds, Woods will still be on hand for the tournament, as he is the the host afterall.
The elbow injury is a bit perplexing because he hasn't had a history with this like he has had with the knee throughout his career.
He has been advised to take a few weeks off by doctors, and will certainly be fresh for the British Open.
It was certainly a forgettable performance at the U.S. Open for Woods, who finished his highest relation to par in his career in the Majors, at 13-over. He was never a factor on the weekend, and his streak of no wins in a Major now is at a full five years.