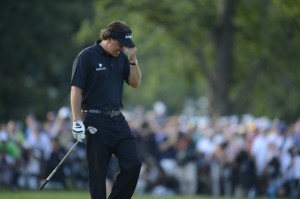 It was another U.S. Open, and another disappointment for Phil Mickelson. After holding the 54-hole lead overnight, Mickelson tabbed a U.S. Open record sixth runner-up finish, losing out to Justin Rose, who won his first-career Major Championship.
There was no question that Mickelson had his opportunities to win this U.S. Open at Merion though.
Playing in the last group with Hunter Mahan, Mickelson was the only player under par through three rounds heading into the final 18. It was a course that Mickelson professed was the best U.S. Open setup he'd ever seen, and one that he felt he could take advantage of.
Right from the opening hole though, when Mickelson's birdie attempt burned the edge, it had to have people wondering whether this would be his day. That spilled over into the the Par-5 second, in which Mickelson missed a five-foot birdie putt, a theme that would continue throughout the day at Merion.
Lefty his 15 of 18 greens on Sunday, a statistic that would lead you to believe he would have won the tournament. He gave himself more chances to win his first U.S. Open than any other player on the course.
The one shining moment was when Mickelson knocked in his second shot from 76 yards on the par-4 10th for an eagle. That shot vaulted him back in the lead despite the fact that he had made nothing on the green all day. And at that moment you were thinking, maybe this is his time after all.
Those thoughts seemed to be washed away on the short par-3 13th, a hole that the field tore up all week. Playing just 121 yards, Mickelson tried to ride the wind with a knock-down pitching wedge, a shot that he admitted was way to much club after the round. The ball flew the green, and landed in deep rough, making it virtually impossible to make an up-and-down. The bogey on the hole felt more like a double, and forced Mickelson to try to make up ground late.
Lefty continued to hang in there though, giving him a very makeable 10-footer to tie on No.16. This was it, it was now or never. it too burned the edge.
After a par on No.17, Mickelson had to make a birdie to tie on No.18, a hole that had not yielded a birdie since Friday. He couldn't muster the magic, giving Rose the U.S. Open.
Mickelson had 36 putts on Sunday, hitting 15 greens. In actuality, Mickelson could have won this tournament by four or five shots had anything dropped for him, which makes it a tough one to swallow. The next chance for Lefty to win a Major will come at the 2013 British Open from Muirfield.