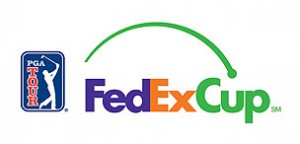 Entering the John Deere Classic this week there are just six event left for players to accumulate enough FedEx Cup points to get inside the top-125 to qualify for the first event on the playoff schedule.
But that is certainly enough time for players to get in and stamp their ticket. Just look at what winning the Greenbrier did for Jonas Blixt this past week. Blixt moved up 100 spots in the FedEx Cup standings from 139th to 39th. That would not only get in into the playoffs, but if he stayed there he would make it all the way to the second-to-last playoff event prior to the Tour Championship where the cut is the top-30.
Obviously the FedEx Cup points place a premium on winning. Just look at Tiger Woods, who leads the way on the 2013 FedEx points standings with 2,380 points in just nine events. But he has four wins which equate to big points. To compare that, Matt Kuchar is next on the list with 1,964 point, with two wins. Kuchar has also played in six more events than Woods.
The only player in the top-20 to play in fewer events than Woods this year is Steve Stricker, who has played in just seven but admitted that he will be playing a more relaxed schedule this year. Stricker is scheduled to compete in the John Deere Classic this week, where he has won the event three times. So we can expect some more points to go to Stricker this week should he do well once again.
Ricky Barnes current sites on that magic No.125 spot heading into the John Deere Classic, with 287 points. Barnes is just two points ahead of Peter Hanson, but is also tied with Scott Langley. Bud Cauley is just in front with 290 points.
As a point of emphasis, if Barnes were to win an event this week, he would go from No.125 up to No.26 on the standings should the other standings remain constant. That is just a testament to how quickly one great week can change the outlook for players who come in on the edge. The same jump can be expected for those who are around Barnes as well, whether just on the inside of the cut or the outside looking in.
Plenty of rounds are coming up before the start of the Barclays to open up the playoffs in 2013, and it should be fun to watch.