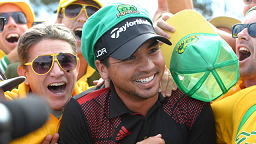 Jason Day almost didn't play in the 2013 ISPS Handa World Cup of Golf. Just days before, Day learned that he lost eight family members to the Typhoon that struck the Philippines.
But at the will of his family, Day participated for Team Australia with Adam Scott, and captured the individual title with a seven-foot par-putt on the 72nd hole at Royal Melbourne in his native Australia. It couldn't have been a better ending for Day, who won for the first time in three years.
Not only did Day win the individual title, but along with Scott the duo captured the team aspect of the event as well.
Heading into the week Australia was the heavily favored team to win the World Cup of Golf, with Day third on the individual payout. Scott was the tournament favorite, with American Matt Kuchar just in front of Day.
Playing inspired, Day put together some great rounds of golf throughout the days at Royal Melbourne, and could not have capped it off any better.
You'd have to go back to the 2010 Byron Nelson Championship to Day's last victory. But it hasn't been as if Day was not contending in events. In fact, he's been contending in the biggest events in the world. He has narrowly missed out on several Major Championships, including leading the 2012 Masters and 2012 U.S. Open during the final rounds.
It's been a tough break here or there that has kept him from winning more. But perhaps this victory here could be the start of turning over a new leaf. The PGA Tour season is in its off period until the Tournament of Champions in Hawaii in the middle of January. But Day will certainly try to carry this momentum and and get back to winning on the PGA Tour in 2014.
There is no doubt that he has the game to win. He's got one of the best swings in golf, and when he makes putts he's very difficult to beat.
Don't be surprised if Day in in contention at the Majors again this year. He will most likely be a top-10 favorites at the Masters, and with his solid performance at the U.S. Open this past year at Merion he knows that he has the potential to get it done.