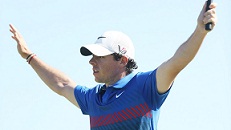 Rory McIlroy won for the first time in 2013 this past week, capturing the Australian Open over home-favorite Adam Scott. McIlroy made a birdie on the 72nd hole to procure a one-shot victory. The win had to mean quite a bit to McIlroy, who had been struggling the entire year to get back to winning form.
The victory moved McIlroy up to No.6 in the world golf rankings. While still a far cry from the top-spot he held at the start of 2013, it's a step in the right direction after failing to win on the PGA tour the entire season.
McIlroy already has two Major Championship wins and a host of other victories. But since switching over to Nike equipment, there is no question his game has suffered. While it's likely not due to the equipment itself, it was a big change that McIlroy had to get used to. It certainly has taken plenty of time, but the win in Australia could foreshadow a good 2014 season beginning in January.
McIlroy went out and grabbed the win at the Australian Open, chasing Scott by four shots entering the day. Some clutch putting and late birdies proved to be the difference – something that McIlroy has lacked for the majority of 2013.
While the victory will certainly help McIlroy mentally, the physical state of his game will be tested this week at Sherwood Oaks in California for Tiger Woods' Northwestern Mutual World Challenge. McIlroy is part of the 18-player limited field that is not an official PGA Tour tournament. However, it's another chance for McIlroy to gain some momentum heading into the 2014 season where he would love nothing more than to climb back up to the top spot in the world.
If he is to do it, this week could be a measuring stick based on consistency. The problem with McIlroy in 2013 was his consistency. One day he would be playing well, the next he would be hard-pressed to get the ball in the hole. His frustration was evident, but his determination was still steadfast. Anyone who has played the game of golf and has become a decent player knows that it is a battle each and every day to try and improve.
McIlroy playing well again is good for golf, as the star of tomorrow looks like he is ready to get back into the conversation week-in and week-out.