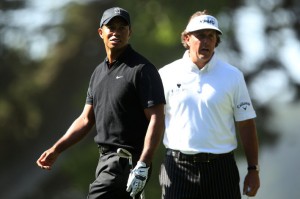 The victory by Phil Mickelson on Sunday at TPC Scottsdale still proves that Lefty is as good as it gets when he turns it on. A brush with a 59 on Thursday, followed by a wire-to-wire victory proved just that.
Mickelson won early in 2012 though as well, and from there went on to have a very mediocre year by his standards. He wasn't in real contention in the Major championships, and now it is coming up on three years since Mickelson won his last Major championship at the 2012 Masters.
So what is on the near horizon for Mickelson this year? Can we expect good performances in the Majors, or another multi-win year?
The fact of the matter is that we don't know, and we won't know until the second week of April in August for the Masters.
This week, Mickelson comes to Pebble Beach as the defending champion in the AT&T Pebble Beach National Pro Am, so there will be some good memories for him. A 64 on Sunday last year while paired with Tiger Woods, not to mention beating him by 11 on the final day alone will certainly evoke those fond thoughts.
Woods will not be in the field this week, but he won two weeks ago. It's been three years since Woods and Mickelson won in back-to-back weeks, although it has happened a total of nine times now.
Woods has won, Mickelson has won, and it's just barely now February. Looks like we could be in for a great year if the two most popular players in the world can keep it up?
All of this good golf is great for fan interest to start the season, but it doesn't matter until they can win a Major. Woods might have won, but he won't be declared back until he hoists one of those Major championship trophies.
Mickelson's Major-less drought is now getting larger, but thanks to Woods not winning one since June of 2008, his streak is largely overlooked.
Both players are right at the top of the list of favorites to win the 2013 Masters in April, with Rory McIlroy sandwiched in between them. McIlroy, the No.1 player in the world, has yet to make his debut on the 2013 PGA Tour, but that will be coming up soon.