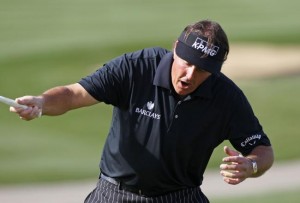 Al Geiberger was the first player on the PGA tour to shoot a 59. That came back in 1977 at the Memphis Classic at Colonial Country. Since then, it's happened just four more times in the history of the sport on the PGA Tour, through the hundreds or thousands, if not, millions of golf rounds that have taken place.
Statistically speaking, it could be one of the rarest accomplishments in all of sports.
Yesterday, during the first round of the Waste Management Phoenix Open, we were all almost witnesses to the sixth one in history.
Almost.
Phil Mickelson needed one last birdie on No.18 at TPC Scottsdale on Thursday to shoot a 59 in the opening round, and came about as close as one can without the ball going in to hole. Even now, we are all wondering how that putt did not drop. Like Mickelson himself afterward even said, at 10 feet it was in, at 5 feet it was in, at a foot out it was in. But the ball circled the entire hole and was spat back out at the front.
An 11-under round of 60 was what Mickelson was left with at the end of the first round at the Waste Management Phoenix Open. And while it hard-pressed to be disappointed with a 60, you could tell that Mickelson really wanted that last ball to drop. Rarely do golfers get a chance to break the magic number of 60.
It was a day that Lefty couldn't miss from the green. He made 90 percent of his putts from 25 feet and in, going 18 for 20. He was 13 of 14 on putts from 15 feet or less. Simply put, it was one of those rounds that virtually nothing could go wrong.
What's interesting, is that Bovada Sportsbook has a betting line up each season on whether or not a player will shoot at 59 during the year on their PGA Tour Prop Odds. That betting line can be see periodically throughout the course of the season. But with Mickelson's close call, that betting line might be rethought by Bovada, or at the very least the payout might be reduced!