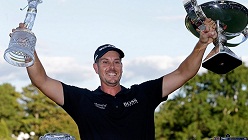 The 2013 PGA Tour season is in the books, capped off by the FedEx Cup championship won by Henrik Stenson, thanks to a win the Tour Championship. It was a great season for golf, which saw many of the game's best rise to the occasion.
Let's take a look at some of the highlights of the Season.
Tiger Woods – Woods won five times this season, three more than any other player on the year. He is the assertive No.1 player in the world. But there was a goose egg put up in the Major Championship category. That is a heading that will hold over Woods until the Masters in 2014, or whenever he gets that elusive 15th Major title.
The Major Championships
The Masters – Adam Scott finally broke through with his first Major win, capturing the Masters in a playoff over Angel Cabrera. Scott had blown a Major lead in the British Open in 2012, as the triumph at the Masters made that all the more impressive. Scott got the Major-less hump off his back, which really opened him up to a great season.
The U.S. Open – The 2013 U.S. Open at Merion might be remembered for Phil Mickelson's 6th runner up finish versus the first Major win of Justin Rose's career. Like Scott in the Masters, Rose got the proverbial hump off of his back with the victory.
British Open – Mickelson didn't have to wait long to wade off the disappointment of the U.S. Open. A brilliant final round 66 led Mickelson to his first British Open championship, an event that many thought he didn't have the shots in the bag to win.
PGA Championship – Jason Dufner dispelled the memories of the 2011 PGA Championship where he lost in a playoff to Keegan Bradley, and put on a clinic in 2013. Dufner fired a Major record-tying 63 in the second round, which spearheaded him to a victory for his first Major, marking three of the four Major winners in 2013 capturing their first.
The FedEx Cup
Stenson won the FedEx Cup, winning two of the four playoff events, including the Tour Championship in Atlanta at East Lake. That allowed him to jump over Woods in the final event to capture the title. Stenson's only two wins came in the FedEx Cup Playoffs, but he had some very close calls in big events this season.
Player Of The Year
It's a tough call on who should win Player Of The Year. There are many viable candidates. Woods might be at the top of the list with his five victories, which included two World Golf Championships plus the PLAYERS Championship.
But Scott could have an argument as well, with the win at the Masters and The Barclays. And of course with Stenson coming on strong late and winning two playoff events and the FedEx Cup, a case could be made there as well.