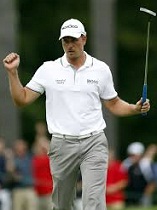 The second-to-last playoff event in the 2013 FedEx Cup playoffs get going this week, as players try to get themselves into position for the Tour Championship in Atlanta in two weeks.
The top-70 players in the FedEx Cup point standings are in the field this week, with more than half the field cut by the conclusion of Sunday at the BMW Championship. There will only be 30 players in the field at the Tour Championship, though every player in the field will have an opportunity to win the FedEx Cup if the right things fall into place. For the top-five, they would control their own destiny with a win at the Tour Championship giving them the FedEx Cup title.
Players should be refreshed coming into this week, with the PGA Tour giving them a week off going forward. It's actually a good move for the PGA Tour to do that, because the toll that a grueling stretch of golf can take on a player is extensive. Having a break in between is the right thing to do to give players a chance to regroup and recharge for what arguably the biggest weeks for some of them purely from the standpoint of money. There is a lot of money on the line for the end of the FedEx Cup, which places an emphasis on playing well at the end of the year and cashing in.
Of course that isn't a real concern for most of the players at the very top of list, like Tiger Woods. Though Woods lost his No.1 position in the FedEx Cup standings to Henrik Stenson, who captured the Deutsche Bank Championship to vault to the No.1 spot in the rankings. Woods is a close second only 14 points behind, but really it's all about getting into the top-five.
That is what is on the mind of players in the top-10 of the rankings entering this week. For the players outside the top-30 though, they are trying to make the limited field at the Tour Championship. For 40 players in the field, this will be their last tournament of the season.
Lee Westwood is sitting in that magical No.30 position with the BMW Championship set to get underway. Names like Rory McIlroy (41), Nick Watney (34), Bubba Watson (40), and Rickie Fowler (36), would all be out of the Tour Championship should we go on the standings through two events.
This is what makes the BMW Championship one of the most important events on the schedule. With many points up for grabs, the chances are that these standings will look quite a bit different on Sunday night.