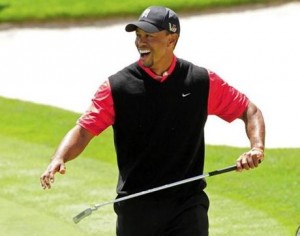 The Wells Fargo Championship is up this week on the PGA Tour from Quail Hollow Golf club in Charlotte, North Carolina. It is one of the bigger tournaments outside of the Majors and World Golf Championships every season, because of the strong field. But this year, there will be one player noticeably absent from a field in which he typically contends.
Tiger Woods has opted to skip the event this week at Quail Hollow, and instead will make his first appearance since the Masters at the 2013 Players Championship from TPC Sawgrass next week.
This was a decision made based on his typical schedule history. There were a few changes to the schedule, and with the Masters being one week later than normal, the Wells Fargo Championship comes just a couple of weeks after Augusta, when Woods normally likes a minimum of three weeks following.
The Wells Fargo Championship will still have a great field though, with Rory McIlroy and Phil Mickelson among those scheduled to compete.
Defending champion Rickie Fowler will also be on hand. Fowler defeated Rory McIlroy last year in a playoff to win his first event on the PGA Tour.
With Woods not in the field this week, that means he will return to a tournament that he has not fared very well in throughout his career. He has one victory at the Players Championship (2001), the signature event on the PGA Tour, but aside from that it's been a bunch of finishes outside of the top-20
TPC Sawgrass doesn't seem to set up well for the No.1 player in the world, which makes his decision to skip the Wells Fargo Championship all that more interesting. You would think that Woods might want to get back into the heat of competition before going into TPC Sawgrass, but that doesn't appear to be the case at all here.
It's likely that Woods will be the favorite heading into next week in Ponte Vedra, but the fact of the matter is that a wager on him has not been a good idea over the last decade. It might be a good idea to turn to other outlets and wagers outside of Woods, and to steer clear for the week.