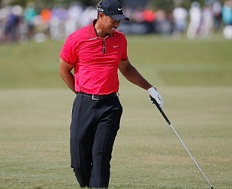 Tiger Woods returned to the PGA Tour a few weeks ago at the Quicken Loans National at Congressional Country Club, a tournament that benefits Woods' foundation. He admitted that had it not, he would have not played in the tournament.
The goal since the surgery has been the British Open.
But with Woods missing the cut at Congressional, it certainly raises questions about what kind of form he will be in when it comes time to tee it up at the Open Championship next week. The good news is that this is a golf course that Woods has won on, capturing the 2006 British Open.
The bad news, or rather the uncertainty of it all is what game Woods will bring with him overseas to Hoylake. It's a good thing that he was able to get competitive rounds in, but can we realistically expect woods to be in the mix on Sunday?
The likely answer is no.
Look, we are the first ones to praise Woods on his accomplishments, but that is the player that he was. The player that he is now is a wildcard. We simply do not know what to expect and he has shown no signs of finding top form heading into the third Major Championship of the season. And lest we forget this is actually the first for Woods since the 2013 PGA Championship.
Woods missed the Masters and the U.S. Open in the same season for the first time in his career. This layoff is a bit different than those he has suffered in the past, simply based on the fact that he is 38 years old. Father time is bearing down on the number of legitimate chances Woods will have at moving beyond 14 Majors, a number that he has been stuck on since June of 2008. That is more than six years since Woods has won a Major.
To put that into perspective, Barack Obama wasn't even in the White House at that point, he was merely in the process of running for his first term.
Unfortunately, we really didn't get the chance to see Woods much because he only played 36 holes at Congressional. It would have been nice to see him make the weekend and show signs of coming back.
For now, his progress is being made away from the spotlight and on the practice tee. You can bet that Woods has this one marked on his calendar as a chance to get No.15.
What bodes well for Woods is that when he won in 2006, he hit just one driver off the tee. Certainly you can expect somewhat of a different setup, but if Woods keeps it in the fairway, he can avoid going off the tee with a driver.
This could give him the opportunity he needs.