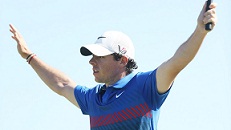 Rory McIlroy is the third player in history to win three majors by the age of 25. The other two are Jack Nicklaus and Tiger Woods.
While the majority of focus on Jack Nicklaus's record of 18 Majors has centered around if Woods can break it or not, perhaps we should start taking a look at McIlroy.
At just 25 years old, McIlroy is one Major win from the career slam if he were to win the Masters. His next opportunity to close out all four Major woulds be in April. But his next opportunity to win a Major will be in a couple of weeks for the PGA Championship. McIlroy captured the 2011 PGA Championship by a whopping eight shots.
The win at the 2014 Open Championship has shifted the way that McIlroy is being thought of, and more importantly the way that he thinks of himself. It's been no secret over the course of the last 18 months that McIlroy has struggled with his game. It was just over a year ago that he walked off the course in the middle of the Nissan Open. It is a move that he regrets, but has learned from.
It hasn't been a fast process, but McIlroy looks like he is well on his way back to the top of the golf world. He is now the No.2 ranked player in the world, and has Adam Scott in his sights to chase down No.1 and reclaim that top spot once more.
He will get the chance to do that at the 2014 PGA Championship, and there is no doubt that he will come in confident.
What is he wins?
That would give McIlroy four Major victories, still 14 behind Nicklaus. But if McIlroy is somehow able to get a couple more Major over the next two of three years, that would legitimately put him in the conversation of becoming the all-time leader.
McIlroy has the talent to win every Major that he enters. But what's more important, is that he is one of only a handful of players that can win a Major Championship when he isn't playing his best. Only Woods, and a couple others out there can make that claim.
McIlroy appears to have turned a corner, and if he is able to seize the moment and turn it on over the next few years, we could be looking at a player that has the opportunity to become golf's next superstar.
And with golf trending down in popularity, that is exactly what the sport needs right now.