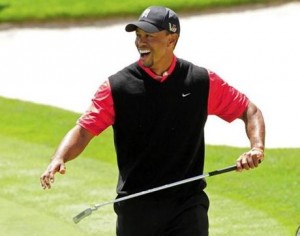 As we all prepare for the 2013 Masters to get started on Thursday, we want to take a minute to look at the field and run down who we feel are the top-five contenders coming into the tournament. There are a number of different players who come into the Masters playing very well.
But when it comes to Augusta, it's not always about who is playing the best at the time. Experience comes into play at the Masters perhaps more than any other tournament in the world, and that will certainly be evident once again this year.
With that in mind, here are our top-five 2013 Masters power rankings this week.
1. Tiger Woods – This probably isn't a surprise, but really if not Woods, than who? Exactly. There is no other player to put in the No.1 position for a couple of reasons. One, Woods is a four-time Masters champion, so he knows how to win here. And two, he is playing his best golf since 2008, winning three times so far on the PGA tour in 2013. Woods is the big favorite at Augusta, and rightfully so.
2. Phil Mickelson – Mickelson was certainly playing better at the beginning of this year than he is currently. However, that being said, there is no denying the fact that Mickelson knows how to play Augusta National. He has three Masters victories, the last coming in 2010. Let's not forget that had it not been for a weird stretch of events on No.4 in the final round last year, Mickelson could easily be coming into this Masters as the defending champion, and not Bubba Watson.
3. Steve Stricker – Stricker has three top-five finishes in four starts on the 2013 PGA Tour. He has yet to get into the winner's circle but we think that he has a great chance to win this week. The importance of putting cannot be overstated at Augusta, and there is no better putter on the planet than Stricker, just ask Tiger Woods.
4. Rory McIlroy – McIlroy might be the second overall favorite this week, but we put him below a couple of veterans with experience here. McIlroy has shown that he can play well at Augusta, but whether or not he will be able to hit the shots needed on Sunday in the heat of the battle remains to be seen. His two Major win have come at the hands of eight-shot victories, where he cruised home. If it's a tight leaderboard, how will he handle it? We think he will do well, and certainly has a good chance.
5. Matt Kuchar – Kuchar got the win at the WGC Accenture Match Play Championship earlier this year, which was his first World Golf Championships victory. He has a Players Championship win under his belt as well. The only thing missing is a Major. Last year Kuchar finished third at Augusta, holding the lead at one point on the back-nine on Sunday. It was a great tournament for him, and we think he can take that next step forward.