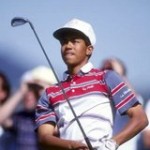 Tiger Woods played in his first PGA Tour event back in 1992 at the age of just 16, when he competed in the Nissan L.A. Open. A few years later, he would play in his first PGA Tournament as a professional.
It took him just five events before he got his first win. Now, nearly 20 years later, Woods has 77 career PGA Tour wins, which is second all-time behind only Sam Snead.
This week, the 2013 PLAYERS Championship marks Woods 300th start on the PGA Tour. In his 299 starts, those 77 victories equate to a 26 percent winning percentage. In other words, Woods has won a tournament every four times he tees it up. That is a remarkable stat line in the game of golf.
In a game that you lose a lot more than you win, Woods has been the standard by which just about all else has been measured.
It's unknown how many more tournament we will see Woods play in. It's likely that it will not be another 300 starts though. At 37 years old, Woods has plenty of good years of golf ahead of him, as good players have won Majors well into their 40's. And Woods is slightly better than a good player so he will get plenty of chances to break the mark of 82 wins by Snead, plus 18 Majors by Jack Nicklaus.
His 300th start though comes at a venue in which Woods has had about as little as success as anywhere he has played.
TPC Sawgrass has been home to one of Woods' 77 wins. That was back at the 2001 PLAYERS Championship. Aside from that win though, it's been a slew of mediocre and disappointing performances.
But the golf course itself doesn't fit the eye of Woods. It's not his favorite place to play, but because of the fact that it's the PLAYERS Championship, which is the signature event on the PGA Tour, Woods plays in it every season.
For the 2013 PLAYERS Championship this week, Woods has been set as the big favorite, though it's hard to understand why. Of course, when looking at the field the question is simply, if not Woods, then who?