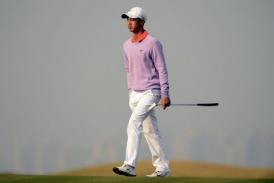 Earlier in April we saw a 14-year-old not only qualify for the Masters, but also make the cut. And not only did he make the cut, he was the low Amateur in the process. Over in China for the European Tour's China Open, there was a 12-year-old who attempted to compete at one of the highest levels in golf.
They are just getting younger and younger these days aren't they?
Ye Wocheng qualified for the China Open and played the first two days of the European Tour event. But a pair of 79s left him on the outside of the cut line looking in. Still, the fact that he was able to play and qualify for this European Tour event was impressive in and of itself.
It used to be that we saw girls around this age competing on the LPGA Tour and in LPGA event across the world. Now however, it appears to be trickling over with the men. Conventional thought would lead to believe that these course are simply too long.
In the case of Ye Wocheng, that was likely what happened. But Guan Tianlang didn't hit it any longer than 250 yard at Augusta. But the highly developed short game, and a remarkable ability to hit a hybrid with precision accuracy helped him make the cut.
And we thought he was young? But 12, really?
Not only that, Dou Zecheng of China, a 16-year-old in the field, actually made the cut! He recorded a 70-72 through the first 36 holes, which was good enough to play the weekend.
As for Ye Wocheng, he was happy with the way he played, and is looking forward to trying to qualify for the 2013 U.S. Open, which will be held at Merion Golf Club in Pennsylvania in June.
"I am happy with my scores, and feel excited to make the cut, so I will enjoy my game through the weekend," Dou said."I am not thinking too much about my score, just try my best, and get some more experience."
Dou will join Guan Tianlang with U.S. Open qualifying, though it is unclear where he will go to do it. Guan Tianlang stated that he will be doing the local qualifying in Texas.