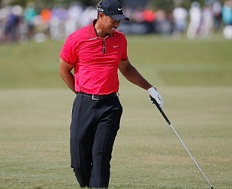 Ryder Cup Captain Tom Watson has said for the last several months that he is seriously considering picking Tiger Woods as one of his selections.
He won't be able to anymore.
On Wednesday, Woods officially withdrew his name from consideration by Watson as a Ryder Cup Captain selection for the event which begins at the end of September from Gleneagles Country Club.
It's not all surprising that Woods made this decision, at the advice of his doctors. It was the right decision, as this will give him plenty of time to recover from his back injury, which he likely reaggravated by coming back too soon. Woods is most recently coming off of a missed cut at the 2014 PGA Championship. Prior to that, he had did not play a factor at the WGC Bridgestone where he was the defending champion, and one good round at the British Open over the course of four days.
With Woods withdrawing from 2014 Ryder Cup consideration, it probably takes a lot of pressure off Watson and makes his job easier. Either way Watson went with it, there was going to be a big story that followed. This now alleviates that potential storyline, and gives the U.S Team and media plenty of time to prepare for the Ryder Cup knowing well in advance Woods will not be a part of the team.
This also means that we might see Watson pick his team earlier than the September 2 deadline. If Woods had remained steadfast in wanting to be picked, Watson would have probably wanted to give him the maximum amount of time to heal and get his game in shape.
The U.S. team will be facing an uphill challenge regardless of whether Woods would have been on the team. In fact, they might be better off, but still will be the underdogs against the European squad.
Europe happens to have the last three Major winners in Rory McIlroy (twice), and Martin Kaymer. They also have Sergio Garcia, who has been playing very well over the last six months in contending for Major Championships.
To be fair though, Europe has been perceived to be underdogs over the last decade or so in each Ryder Cup, and have contended very well, dominating the U.S. squad on the whole. And let's not forget the the U.S. has guys like Bubba Watson, Jordan Spieth, Phil Mickelson, Matt Kuchar, and more. These players are all well prepared to take on the hostile environment that they will face.
The Ryder Cup remains one of the premiere in sports, and should be chock-full of intensity and pressure.